NEW BLOOMFIELD - The pandemic brings constant changes to everyone's daily lives. It can be difficult to explain the changing guidelines and restrictions to those who may not receive change well. 
Parents of kids with autism have presented a new outlook of life to their children. It's one that requires masks, staying six feet apart and life online. 
Christa Bertram is the mom of 8-year old Ezra. He was diagnosed with autism around the time he started kindergarten. Ezra noticed he did things differently than his classmates. 
"I like to organize things in a unique way," Ezra said. "Like with my Pokémon cards, I organize them to types and sometimes I organize things by color." 
Ezra is homeschooled with his brothers in New Bloomfield. Even though there was no shift to online learning last year, Ezra still faced a lot of changes from the pandemic. 
"It's been an adjustment for everybody," Christa said. "It is a little bit more difficult for somebody with autism because they like routine. So when all of a sudden we can't go to church or the park and have to wear a mask everywhere, that's really difficult." 
It can be challenging to explain big changes in daily life when we don't completely understand where these changes are coming from. Like most people at the start of the COVID-19 pandemic, Christa and her husband didn't quite understand the virus. 
"We explained that it's a germ, essentially, and it might get us sick and it might not, but we definitely don't want it," Christa said. "It was very hard for him [Ezra] to understand and one time he got upset because he thought we lied to him about the deadliness of the virus, but we didn't know how deadly it was." 
Parents during the pandemic have grappled with declining mental health for both themselves and their children. According to a survey from Everyday Health, over 27% of parents have reported their mental health worsening since March of 2020. 
Parents of children with autism are no exception to that percentage. 
"I found it incredibly challenging to feel confident that I was doing my job at 110%, but then to also feel confident as a mom that I was doing that at 150%," Alicia Brewer Curran said. "It was really challenging for me to be able to realize that I don't have a super cape."
Brewer Curran is another mom of a child with autism. Her son Sam is minimally verbal and requires special care on a daily basis. She explained how working from home and online schooling significantly changed Sam's routine. 
"In the last year, I've never experienced so many challenges," Brewer Curran said. "It was me trying to meet the demands of my son, plus I'm a full-time working mom, and autism doesn't stop during the pandemic." 
Dr. Kristin Sohl is an autism specialist at MU Health Care. She works directly with Ezra's family and other families with autism. Dr. Sohl explained what her experiences have been like in the last year. 
"It's been really difficult and the pandemic has presented challenges to all of us," Dr. Sohl said. "For people with autism who like things to be relatively the same, all these additions of masks and changing health guidelines can be really stressful to adapt to."
Dr. Sohl's patient visits turned virtual with the pandemic. Ezra and other patients have navigated the highs and lows of telehealth services and appointments throughout the last year. 
"It's very hard to get him [Ezra] to sit in front of a computer and engage with the doctor or therapist on the other side of the screen," Christa said. "It's been a lot of me talking and telling what's going on and then trying to implement what they're telling me to do at home."
Dr. Sohl explained the shift to completely virtual visits was a bit easier on the provider's end. 
"I've been working with an online platform, Echo Autism, to bring developmental techniques to everyone we can," Dr. Sohl said. "I've had the benefit of providing online care before the pandemic so I was ready to go when COVID hit. Now I get to see my patients pets, siblings and homes and a part of their life I didn't get to see before."
Dr. Sohl got to see a special aspect of Ezra's life with his new book, "Audie Embraces Different." The 8-year old published a book celebrating autistic differences with his family during the COVID-19 pandemic. 
"I feel proud because it can show other people to be a voice for different," Ezra said. 
"Audie Embraces Different" focuses on a giraffe who does things a bit differently than his friends. It celebrates Audie the giraffe's differences and showcases his uniqueness in a positive way.
For Ezra, Audie is a character he can relate to. 
"He likes to run back and forth and do things in a unique way," Ezra said. "Just like me." 
For Ezra's mom, the book provides autism representation and a religious perspective for her kids. 
"We got a few books about autism because it helps Ezra feel not so alone and also to help his brothers understand how he's feeling," Christa said. "It helped our whole family understand how Ezra was feeling. We're all different and we need to embrace those differences."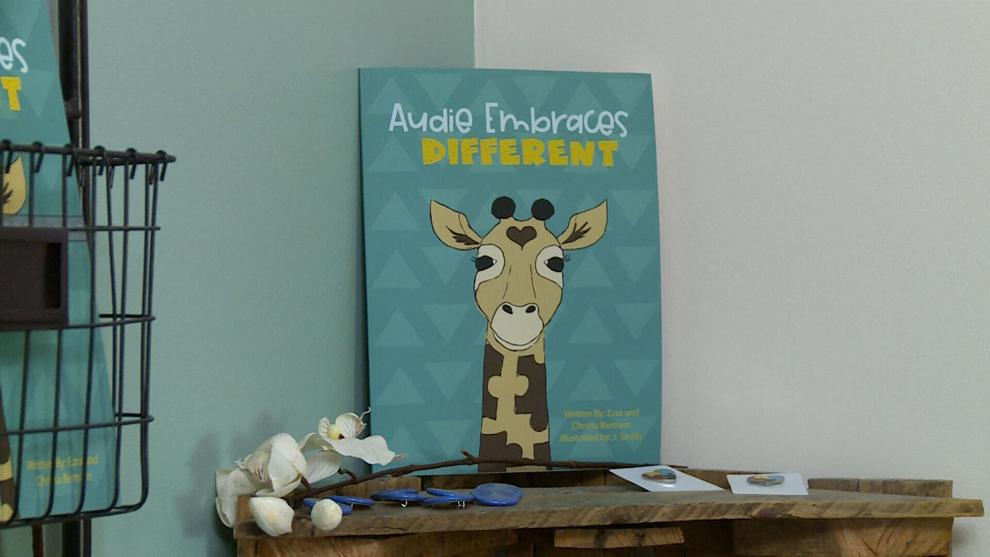 For Dr. Sohl, the giraffe sits on her medical coat everyday at work to serve as a reminder of the positive differences of autism.
"We all have differences and sometimes that doesn't always sit well with people, and that can hurt," Dr. Sohl said. "I remember telling Ezra how thankful I was he took the time to write this book and to help remind all of us that we are unique and that it's okay to embrace our differences." 
Through the hardships of the past year, Dr. Sohl reflected on the importance of mental health for parents of children with additional needs. Parents have found new ways to communicate with their children, but it can sometimes put a strain on personal health and relationships. 
"We have to give each other grace because it's the same as putting your oxygen mask on first so you can help others," Dr. Sohl said. "You have to at least recognize when you are stressed and hurting because when you don't recognize it, that's going to impact your child." 
Dr. Sohl, Alicia, Sam, Ezra and Christa are celebrating the differences of autism despite the hardships of the pandemic. 
"We're thankful for the relationships that we have, because we can't do this alone," Christa said. "We as his family can't do this alone."
Ezra and Christa's book can be found on Amazon here.