COLUMBIA - With every paint stroke, artist David Spear added another note to his musical mural. 
"Just grays and whites, right now," Spear said while working on the initial phase of the mural. "I gridded the whole wall off by 3 foot sections."
At the building located on North College Avenue in Columbia, Spear is composing something special. 
"I presented [the owner] this idea and he really liked it," Spear said. "If Columbia's going to have an iconic personality, a figure, I think he's a pretty good one. He overcame a lot of obstacles."
Spear's painting local pianist J.W. Blind Boone. 
"I think we have a lot to learn from him as an historical character and also as a way to reflect on us," he said.
"Blind Boone is a story that so many people living here in Columbia have never heard of," Pastor Clyde Ruffin and board president of the J.W. Blind Boone Foundation said. 
Born in Miami, Missouri in 1862, John William Blind Boone is known as an innovator of ragtime music who lost his sight at just 10 months old.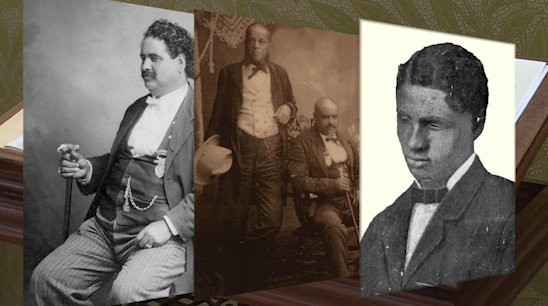 "He was diagnosed with brain fever," Ruffin said. "It was believed the only cure for brain fever was to remove the eyes to relieve the pressure. So [his mom] made that decision that she would rather have him live and be blind than to die." 
Boone also lived in Columbia through segregation and the years of Jim Crow. Still, he kept playing. 
His home still stands in Columbia's downtown. In July 2003, the U.S. Department of Interior's National Park Service listed Boone's Home on the National Register of Historic Places.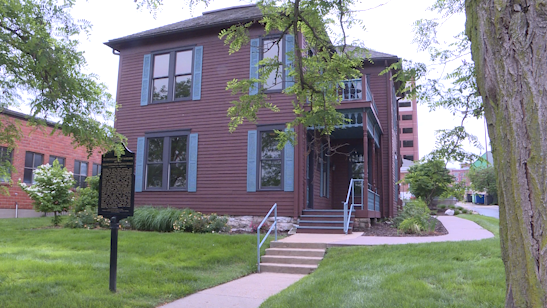 "The story of the Civil War, the story of mixed race, the story of people who manage physical disabilities and the story of economic striving and not to mention, culture and music and creativity, all of those stories converge in his story."
Now, those stories converge on a building's walls. 
"It's so important that his story be kept alive and so, the mural will do that," Ruffin said.
What started as a simple melody, turned into a full blown chorus as the mural process entered its next phase. Kevin McCartney and his crew joined Spear to help him fill things in.
"I actually fear heights," McCartney said while painting on a ladder. "But, I face my fear every day."
The song they're crafting on these walls is delicate. The spring heat and rain can easily throw off the rhythm.
"If it's too hot, you can't paint. You gotta be aware of pop up thunderstorms and you know, wasps," McCartney said with a laugh. "Painting in the sun is bad for the paint, bad for the painter."
Then, the work crescendos with a boost to reach the high notes. On a different day of painting, the group brought in a lift to help the painters reach every section. 
"The reinforcements, yeah," Spear said about the lift. "When we get everything boxed in this will help us blend."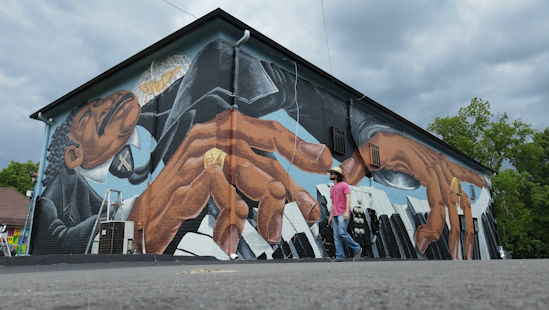 After weeks of work, hundreds of paint strokes and adding new notes, Spear's song is ready for a listen. He hopes you'll hear the point.
"My hope is that it brings our community together in terms of history and inspiration," Spear said.
A mural he hopes mirrors the musical memory of Blind Boone.
"The impact of visual representation is, it can't be underestimated because it opens a dialog, it opens conversation," Ruffin said. 
"As a society we have to understand each other and hopefully this is a positive step forward to understanding each other," Spear said. 
One of the property owners, Jake Vehige, said they're pleased with Spear's work.
"David did not disappoint. He knocked it out of the park," Vehige said. "I knew that it would look great, but it turned out even better than I was imagining."
He said he and his business partner came up with the idea to commission the mural after traveling and seeing other large murals on buildings in other cities. He said they loved the idea of featuring Blind Boone on their property.
"It was historical, and someone Columbia could be proud of, but on top of that, we knew that a mural of him and those piano keys lined down the building would look amazing," Vehige said.
He said he hopes people will stop and take pictures of the mural for decades to come.
Watch KOMU 8 News tonight at 10 to see Spear in action and hear some of Blind Boone's ragtime music.
To learn more about Blind Boone and his historic home in Columbia, click here.