COLUMBIA - During the COVID-19 pandemic, health care workers haven't hesitated to step up including MU Health Care nurse Courtney Henley. 
Henley said she became a nurse because she wanted to make a difference. 
"I'm seeing the difference that I've made in people's lives, it's like what keeps me going for sure," she said.
It's a good thing she kept going because she kept her patients like Raul Castillo going, too. 
"I was afraid that I was probably going to die," Castillo said. "I did have a great nurse with me."
He said he thought it was just a common cold at first. 
"One day I just woke up with mostly upper respiratory symptoms."
But, three days later, Castillo said he tested positive for COVID-19. 
"I knew I was going down the hill," he said. "I tested positive on the 4th and went to the hospital on the 10th."
Castillo ended up inpatient at Columbia's University Hospital in June 2020. That's when he met Courtney Henley when she was assigned as his nurse in the ICU.
"I always say that I have special gratitude for her," he said. 
"When he first arrived at the hospital, he had to get the breathing tube put in, he had to be chemically paralyzed, he had to be sedated," Henley said.
Castillo wasn't her average patient. 
"We got exposed, but that's part of the risk that you go into this kind of career," he said.
Turns out, he works at MU Health Care, too.
"Having the doctor as my patient was definitely different," Henley said. "You know, he obviously being an anesthesiologist was very in tune with what things meant."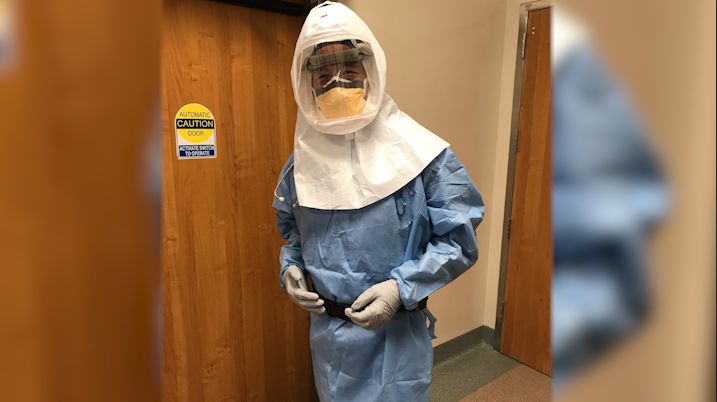 "It was a downside to know...because I worked with those monitors every day. It was very hard to hear that those monitor sounds were mine," Dr. Castillo said.
For a doctor used to saving lives, he was scared for his own.
"I told her that I was going to die," Dr. Castillo recalled telling Henley when he was in the hospital. 
But, he said she kept him positive. 
"She told me, 'You're not dying here, you should have stayed home if you wanted to die.' Those were strong words," he said.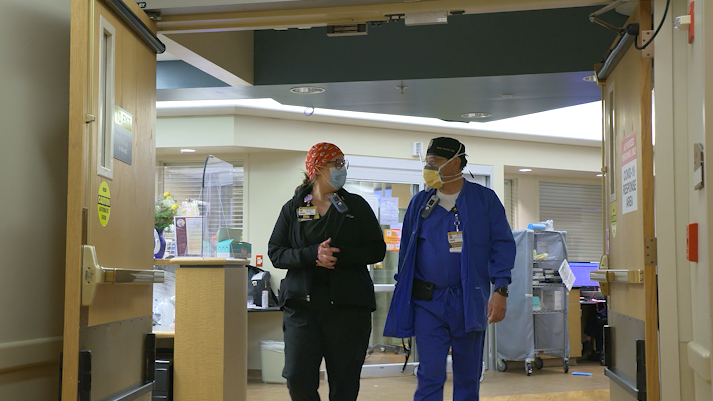 "Talking to somebody who already had the knowledge and trying to keep them calm was very different, but rewarding at the same time," Henley said.
She also kept his wife and children calm.
"I talked with his family frequently over Zoom about the status how he was doing," Henley said.
"The way that she contacted my wife, my family, [during] very serious critical moments...she was there constantly giving me that support and not giving up on me," Dr. Castillo said.
Henley even took on extra shifts to care for COVID-19 patients like Dr. Castillo and picked up home cooked meals from his wife in the parking garage. 
"I was trying to reassure him every day I was there that things were going to be okay and things that he was worried about were going to take care of," Henley said.
After nearly a month in the hospital as a patient and weeks of physical therapy, Dr. Castillo is back to work at MU Health Care. But now, he works beside a new friend.
"I'm just so glad to see him back doing what he loves," Henley said.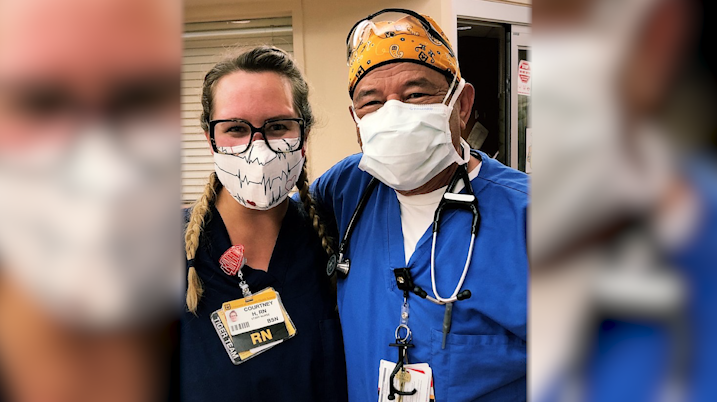 "I think that Courtney was my guardian angel that was pulling me through," Dr. Castillo said. "I don't have words to describe Courtney Henley, I just don't."
Henley received a Daisy Award at MU Health Care recognizing her work as a nurse after Dr. Castillo nominated her.
Dr. Castillo said he lost 27 pounds in less than a month battling COVID-19. He said he hopes his story reminds everyone how precious life is and what is most important.