JEFFERSON CITY - When all you have left are pictures, those moments mean more. 
"One thing I love talking about is how awesome my little boy is," Jason Harrington said while looking through photos of his family. 
For Jason and his wife, Misty, these prized possessions capture their son, Alex's smile, his laugh and his love for the violin. 
"He got into orchestra, and it was absolutely love at first sight. I mean, he loved it. He loved the people. He loved his teachers," Jason said.
But, this couple learned in 2019 that life can change in a flash. 
"And, they got him looked at and they said, 'Yes, it is cancer,'" Jason said.
What started as Alex complaining about leg pain that summer ended up as a life threatening diagnosis.
"It was osteosarcoma, bone cancer," Jason said.
It's a moment that's difficult to envision for any parent.
"It was the single worst experience of my life," Jason said. "I mean, it was heartbreaking, it was soul crushing."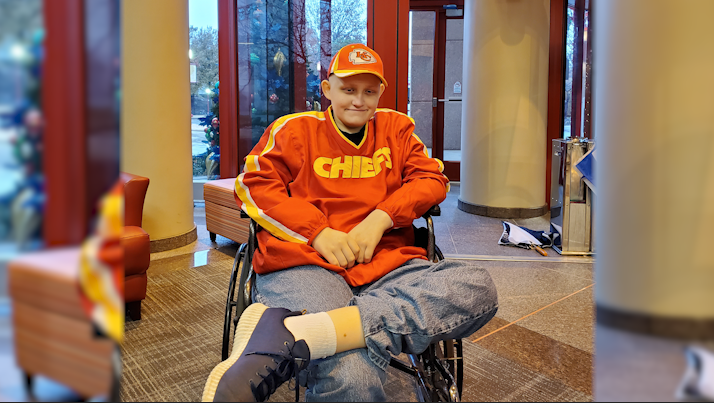 The family traveled to St. Jude's Children's Research Hospital for Alex's care. He fought the disease for over a year. His parents said he was more concerned about those around him instead of himself. 
"He was more worried about us than he was worried about him. I mean, you have to know you raised your kid right with that," Jason said.
In the fall of 2020, Alex's parents got another devastating call.
"That said, 'Hey, the tumor in his lungs has come back with a vengeance… we probably have only a few weeks or a few months left at that point in time.' And he passed away November 28th," Jason said.
Alex was 15 years old. 
"Even with everything else raising him was the best experience of my life," Jason said about Alex.
John Wampler knows how the Harrington's feel. He can picture it because he's lived it. 
"A week leading up to it Lizzy began to complain of leg pain...we were able to get into St. Jude immediately," John said.
He lost his 10-year-old daughter, Lizzy, in 2018 to the same cancer that Alex battled.
"Lizzy, she had every reason to be sad," John said. "She was taken away from her school, her friends, she was taken away from her family, but she took that adversity and she saw a seed of opportunity to focus on others."
John and his family hope to carry on Lizzy's love for others through the Lizzy's Walk of Faith Foundation.
"To support local families going through pediatric cancer to help alleviate those burdens," he said.
Burdens like the cost of a funeral.
"We were just doing a very basic funeral and that was $3,500. I mean, so no one just has that sitting around in the bank especially after two years of fighting osteosarcoma," Jason Harrington said.
That's when two similar paths crossed. 
"And, that's when we met John," Jason said.
John now works for Parker-Millard and got introduced to the Harringtons when they were planning Alex's funeral.
"This is quite possibly the worst day of my life ever and he was in there and he knew exactly what we were going through...we were comparing notes," Jason said.
"We immediately connected," John said. "We just hugged each other and cried and laughed and cried and shared stories. We understood each other...Later we found out that one of the ways they needed help was paying for the funeral arrangements."
And Lizzy's foundation did just that.
"I believe that it was meant to be," John said.
"It was huge. Of all things to be stressed out about that's not one of them. And so, his foundation was really able to help us out a lot," Jason said about the foundation covering the costs of the funeral.
Now, picturing the future comes a little bit easier for the Harringtons. Thanks to another dad and his daughter's legacy.
"I've got a long road to travel, but it's nice to know that I've got someone like John who's nice enough to help me out," Jason said.
"Being able to come alongside and to put my arms around these families...we've walked your road that you're walking now and we're still standing. It gives us so much strength and it gives us so much joy," John said.
John and Jason have gotten to know each other better through a new group called, "Just for Dads." It's a support group for dads who have lost children.
It's not a club they want to be in, but they said they're glad to have each other's support to navigate a difficult journey together.
To learn more about Lizzy's Walk of Faith Foundation click here.