COLUMBIA - One Columbia family spent two weekends decorating their house in lights, a living window and a Grinch photo op. 
The Patterson family said it's to spread cheer and support a good cause.
"It's Christmas time, you have to be cheerful," Shannon Patterson said. "Christmas is giving back and making people happy and just making a difference especially in 2020."
"It's kind of crazy, draws lots of attention," her son, Clay, said.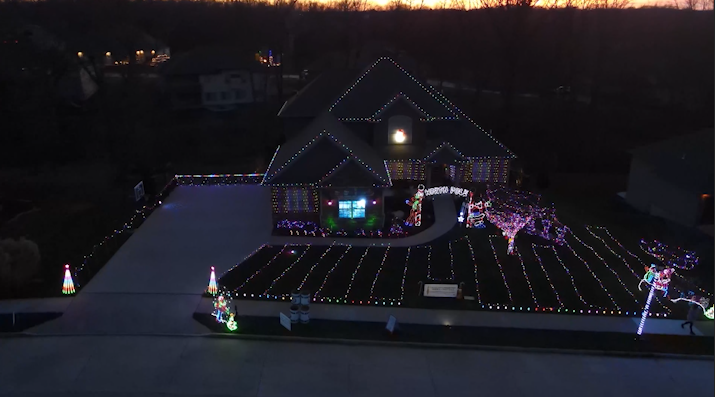 With all of the attention the house display was getting, Shannon said her family decided to do something more.
"So, I had reached out to the food bank, I know that they're in desperate need of food right now and it's also showing my kids how important it is to give back," she said.
"I think it's good because the food bank needs food for people that don't have a lot of money," her daughter, Chloe, said. 
Not only can people enjoy the lights, but a visit from the Grinch. Shannon found the costume on Amazon and couldn't resist. 
Chloe said her mom is the Grinch, "that gave the presents back."
"It makes your heart happy, I smile behind my Grinch mask almost every night that I'm out here doing this," Shannon said.
You might think the neighbors don't like all the lights or the noise or the crowd, but the ones we talked to said they're actually quite proud.
"It literally makes us happy every single night when we drive by. So, I think this year in particular anything we can celebrate is good," Jill Link said, who lives up the street.
"Oh, we love it," Ann Goff said who lives next door. "It's just really festive and it's so much fun to see the families come by and they're having a good time."
On a so-called Grinch night, people can come take a photo with the Grinch from six feet apart.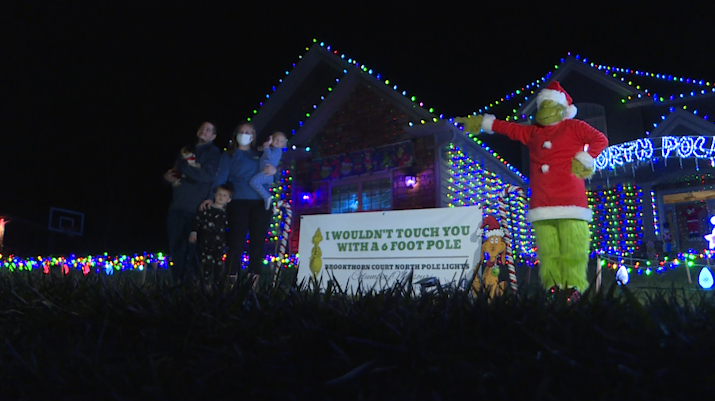 "Especially with everything that's going on it was nice to just come out, get her out of the house and you know, see some Christmas lights and see the Grinch," Anika Edwards said who came by for a photo with her daughter. 
Even one of the Grinch's relatives made a stop by, a little girl named Olivia Grinch.
"He's my ancestor," she said. "It's like seeing lights everywhere and it's like seeing a kid's dream."
Shannon said the display has raised over 700 pounds of food for the Food Bank of Central and Northeast Missouri. 
"We've had increased need from people who really haven't used our services before, and to know that our community is behind us...it's heartwarming for us," Gui Claw said with the food bank.
The family is planning its next Grinch night for Thursday, Dec. 16 from 7 to 7:30 p.m. The family asks for those who come by to leave a food donation in the food bank bins.
Watch the video at the top of the page to see the Grinch in action!
To check out the house and follow when the Grinch will make future appearances, check out the Brookthorn Court North Pole Lights & Grinch Facebook page.