COLUMBIA - You can train a dog to sit and stay, but what about training a dog to serve? That's the goal for one Army ROTC student at the University of Missouri-Columbia. 
"So, this is Blaze, he's a yellow lab that I'm currently training with Retrieving Freedom," Kylie Schatmeyer said introducing the one-year-old dog. 
Schatmeyer is one student volunteering her time to help the non-profit train service dogs for veterans and children with autism.
"Seeing how much he's learned and how much he picks up on things is just amazing," she said about working with Blaze.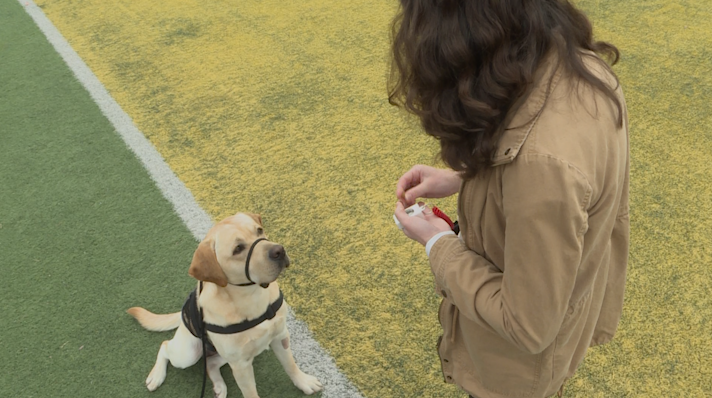 It's a mission that's close to his trainer's heart. 
"My brother is also in the marines," Schatmeyer said. "So, I have a lot of military experience in my family."
Retrieving Freedom's Director of Operations Kyle Cory-Yaeggi said the partnership between the organization and Mizzou has been fantastic.
"It takes a village to raise a child and it takes a whole village to raise one of our service dogs," he said. "It provides an opportunity for [the students] to get a different look at what veteran life looks like post discharge..and really give back to the community they're heavily focused in."
Blaze won't stay with Schatmeyer forever though.
"He will go on to learning more advanced training specifically for whatever client that he goes to," she said.
The dogs move on from training to clients like veteran Shanna Matthews. 
"When I first found out I had to get a service animal, I didn't want one," Matthews said with a laugh.
The Air Force veteran fought for our freedom for over two decades.
"I was 22 when I first went on my first deployment to a war zone," Matthews said. "A lot of people can't fathom that I had 36 actual deployments. That's a lot."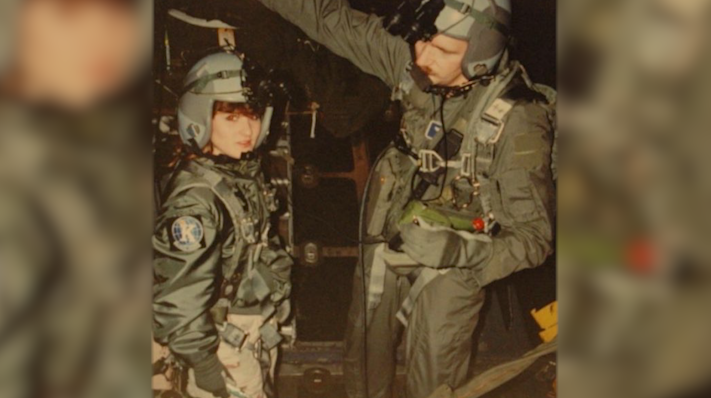 When she returned from her deployments, she didn't expect the new fight waiting for her at home.
"It just all started to unravel," Matthews said. "I think it was four years of therapy I had had before I was able to even come to terms with my PTSD." 
She said it was a specific trip to a store when a young man bumped into her that she knew things had to change.
"I turned around and immediately grabbed the young man and took him down just like I would in any other situation and then I realized that the young man was, in fact, blind," Matthew said. "I felt so guilty, I felt like I had no business being in public."
It wasn't until she met Davis, her new service dog from Retrieving Freedom, that she won her own fight.
"He has given me a sense of stability," Matthew said. "When I am having difficulties walking, he's there to help me get up off the floor. He knows to help assist with my emotional issues and he also provides protection to me, he always has my back."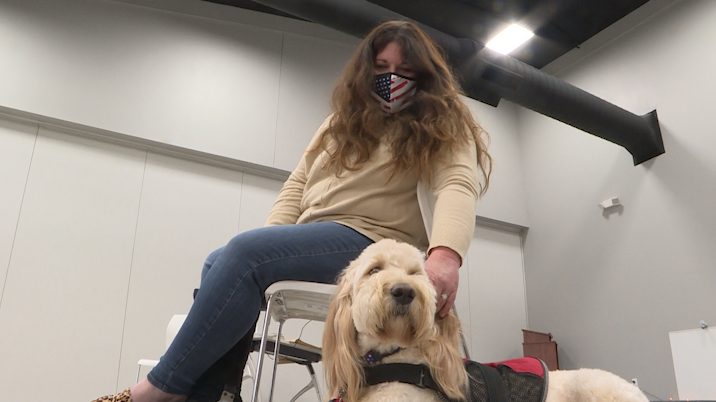 "Their success stories are things that we take for granted every day," Cory-Yaeggi said. "Things as simple as going to the restaurant as a family or going for a walk through the park."
The dogs' training is not for a battlefield, but it does help combat life's daily challenges. And provides a service to those who have served.
"There's nothing more important than your freedom," Matthew said. "He's my best friend. He's my other half. I feel like I'm whole when I'm with Davis."
Retrieving Freedom has a facility in Waverly, Iowa and a brand new one in Sedalia. The building was constructed on 22 acres of donated property and has three handicap accessible dorm rooms on-site for families to use while they're training with the animals.
"We want to make this as welcome and as familial of a process as possible," Cory-Yaeggi said.
The non-profit's clients get the trained service dogs for free. 
To learn more about getting involved in the organization, click here.