COLUMBIA - Like many high school football rivalries, the game is something communities look forward to and families remember. 
For the Alvis family, no game combines rivalry and family more than the annual 'Providence Bowl' - played between Rock Bridge High School and Hickman High School every year. 
The rivalry between the schools began in 1994 and is now known as the 'Providence Bowl' because both schools are located on Providence Road and on opposite ends of Columbia.
For Hickman's head coach, Cedric Alvis, the Rock Bridge-Hickman rivalry seemed to always run in the family. 
His uncle, Tim Alvis, played at Rock Bridge. During Tim's sophomore year in 1994, Rock Bridge and Hickman played each other for the first time.
Tim later went on to coach under A.J Ofodile at Rock Bridge from 2003 to 2006, the same period that Cedric was on the football team as a student at Hickman. 
"It was a very unique experience, because just as a family, we're very competitive," Tim Alvis said. "We like to compete, we like to compete against each other." 
It's that competitive nature that the Alvis family says keeps the rivalry, and their family, so exciting. 
"We always have had a really great relationship when it comes to just sports in general," Tim Alvis said. 
Cedric graduated from Hickman in 2005 and attended Missouri State University. He returned to Columbia to be a volunteer coach at Rock Bridge and later joined Hickman's coaching staff in 2011 as a defensive backs and wide receivers coach. 
He then went on to coach at Battle High School as the defensive coordinator until finally returning back to his roots at Hickman as head coach in 2018. 
Tim's son Aiden, Cedric's cousin, started high school at Rock Bridge in 2018. From there, the Alvis family's passion for the rivalry really took off. 
Aiden is now a senior linebacker at Rock Bridge, and it's an ongoing family joke that the youngest Alvis always wins. 
This year's Providence Bowl marks the third and final time that Coach Alvis' Kewpies and Aiden and the Bruins have played each other. 
"This will be the third time we've played each other and unfortunately Hickman has not won and the younger Alvis has been victorious," Cedric Alvis said. 
Although they represent different teams, the two have a unique bond and Cedric says he's proud of the athlete and man Aiden's become. 
"Watching film is different when you can place a name and you know exactly who that kid is," Cedric Alvis said. "He's blossomed a lot and he's turned into an amazing football player, and it's fun to watch him grow."
Cedric's coaching experience has also played a crucial role in Aiden's recruitment process. The two say Cedric's had a big impact on helping him chase the goal of playing at the next level.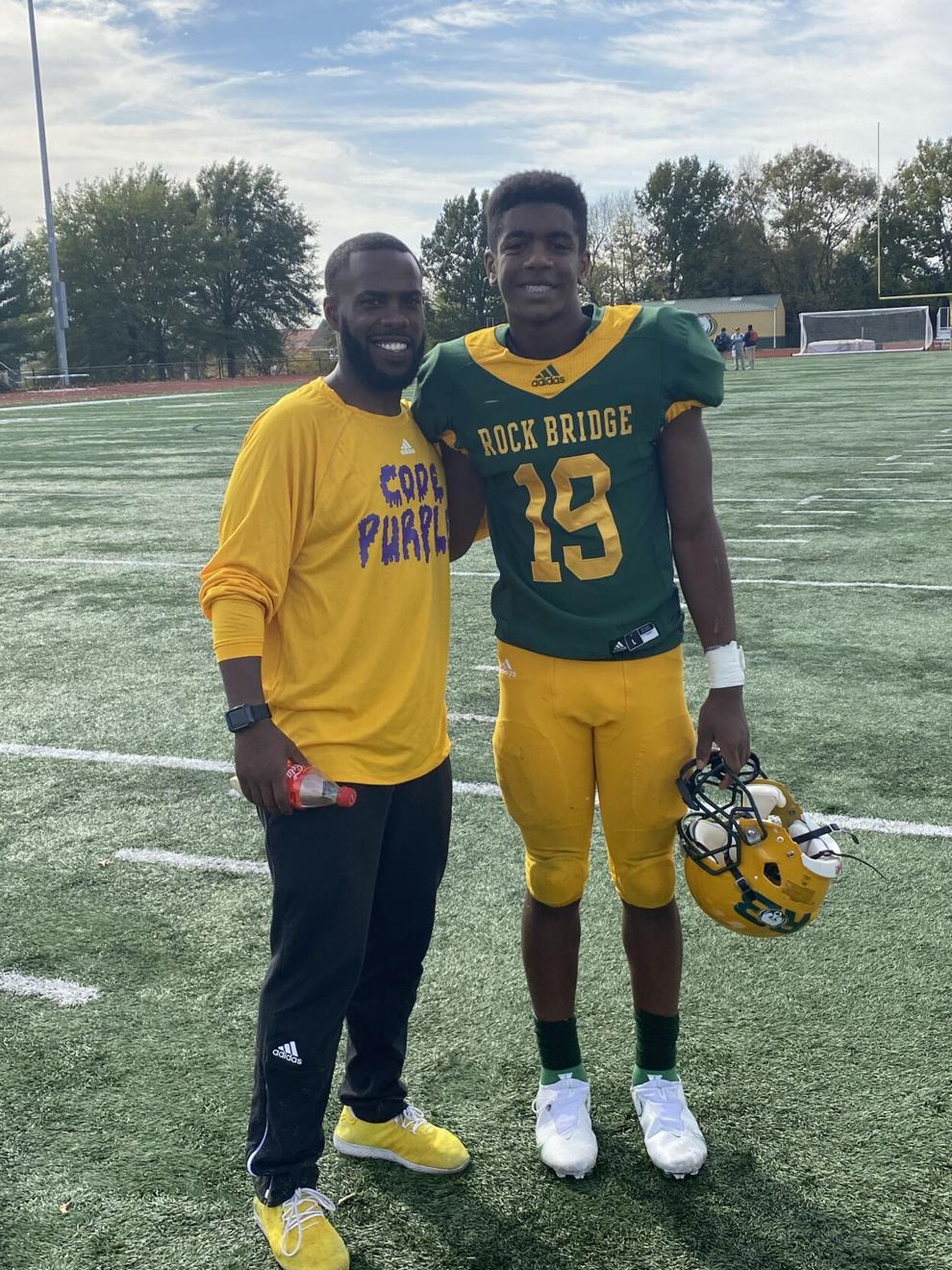 "He definitely helps me out all the way around, I definitely wouldn't be given these opportunities I have if it wasn't for Cedric. He kind of opened those doors for me for the most part," Aiden Alvis said. 
The two share more than just a love for the game. They both say their relationship stays goofy at heart and can show at times on the football field.  
"Of course, we joke around a lot, Aiden's a goofball, he's really, really funny," Cedric Alvis said. 
Aiden graduates in May, meaning this is the last time the Alvis boys get to participate in the Providence Bowl rivalry together. 
"I'm gonna make sure that this game is one that we can remember as a family," Aiden Alvis said. "It's very exciting, I'm very pumped for this game because he knows me better than I probably know myself." 
The two have a large family that supports them both on Friday nights, but this week is different since they are playing each other, the family gets to watch together, one final time. 
"I love watching them compete," Tim Alvis said. "I love the fact that I know that Aiden's putting in a lot of time to be the best that he can be, and I also know that Cedric's putting in a lot of time to be the best that he can be. So when they collide, it's gonna be great to watch and may the best Alvis win."