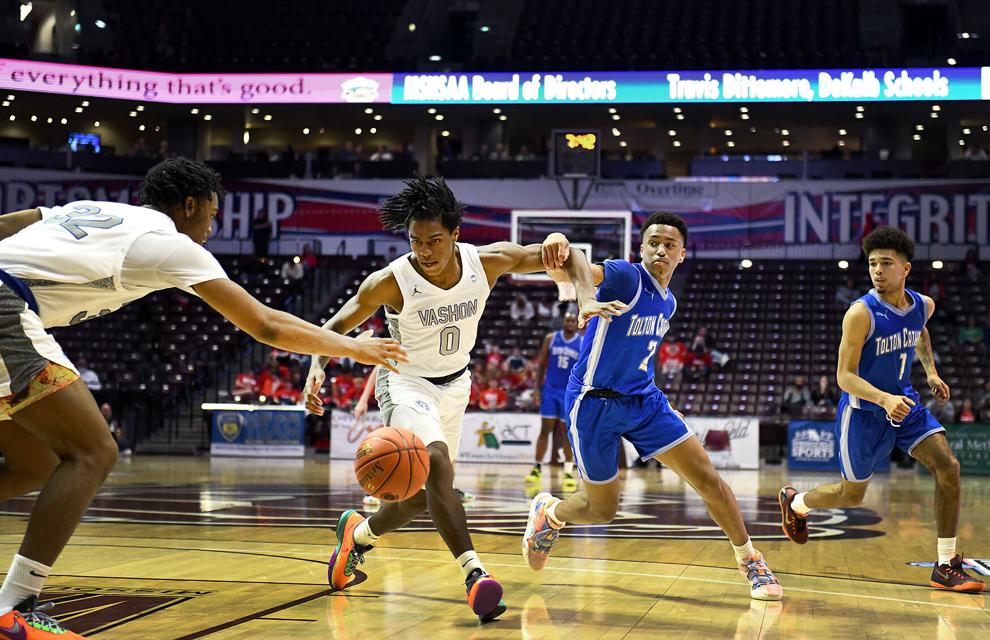 SPRINGFIELD — Against 16-time state champion Vashon on Thursday, Tolton boys basketball knew it was facing its toughest test of the season at the MSHSAA Class 4 Show-Me Showdown.
Despite that challenge, the Trailblazers battled for all four quarters against the Missouri Basketball Coaches Association's top-ranked Class 4 program in a 49-45 defeat at Great Southern Bank Arena.
"It's always a battle playing Vashon," Tolton coach Jeremy Osborne said. "(They're) extremely athletic (and) extremely physical."
The Trailblazers faced a nine-point deficit in the first half and rallied to within one point in the beginning of the fourth quarter behind efficient performances from the guard tandem of James Lee and Exavier 'Zay' Wilson. It wasn't enough, and the Trailblazers fell just short of a complete comeback.
Lee and Wilson tallied 14 and 18 points, respectively. They combined for an 11-of-24 mark from the field, including a pair of 3-pointers.
Vashon countered with its own dynamic duo of senior forwards Kennard Davis and Cameron Stovall. Davis, the Wolverines' leading scorer, added yet another stellar outing with 20 points, seven rebounds and four steals.
"(The) team effort is always going to be there, even when we don't have a great game offensively," Stovall said.
Stovall led a balanced Vashon offense with an 11-point, five-rebound and two-steal game. Six other Wolverines tallied at least one point, including sophomore guard Dierre Hill Jr. who scored seven points and added seven rebounds.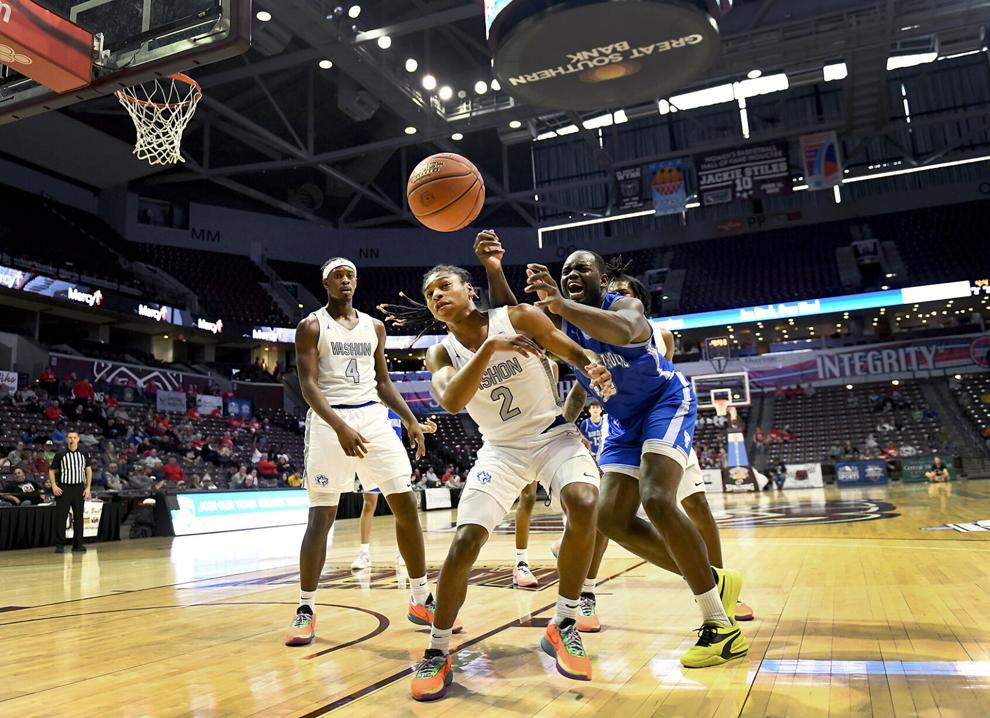 The semifinal featured a battle between two of the state's top defensive teams — and that intensity was on full display. Tolton held the usual offensive juggernaut to 35.3% shooting and a 2-of-14 mark from behind the 3-point arc.
Vashon's full-court pressure forced 19 Trailblazer turnovers and limited Tolton to only two 3-pointers and 38.9% shooting from the field. The Trailblazers forced 10 turnovers, but they could not overcome their own miscues.
"That's nine possessions that we lost (and) nine extra possessions that they gained," Osborne said. "(To) turn (it) over 19 times and then be in a four-point game with them speaks to our grit."
The contest looked to be trending toward a familiar Vashon blowout victory, as the reigning three-time state champion surged to an eight-point advantage in the first quarter.
Stovall led the charge with seven consecutive points late in the quarter, utilizing his athleticism and size to work inside the paint for a trio of layups. His efforts helped the Wolverines take full control of the tempo.
"I knew we were having a slow start, and I know I had to come in and bring the energy," Stovall said.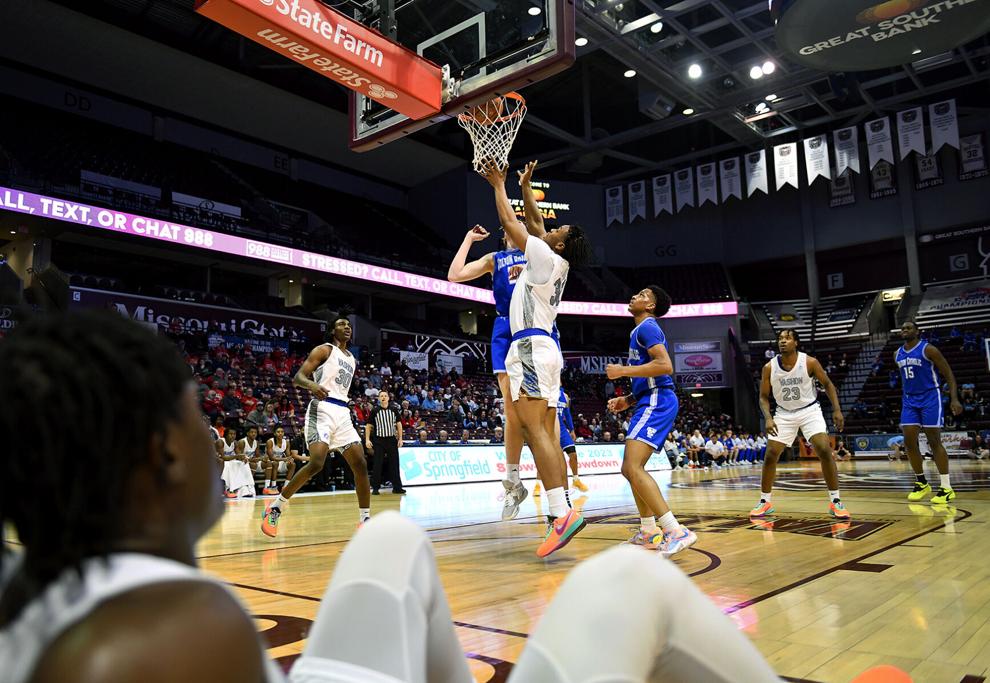 Osborne, noticing the shift, switched to a 1-2-2 zone defense in the second quarter. The move worked to perfection as Tolton allowed just 29 points over the final three quarters.
The Trailblazers methodically fought back over the next two quarters, withstanding a quick 4-0 flurry from Hill to begin the second half.
Wilson went to the foul line with eight seconds remaining in the third quarter for an opportunity to tie the game but missed both free throws.
Vashon sophomore guard Trey Williams Jr. knocked down two free throws on the ensuing possession.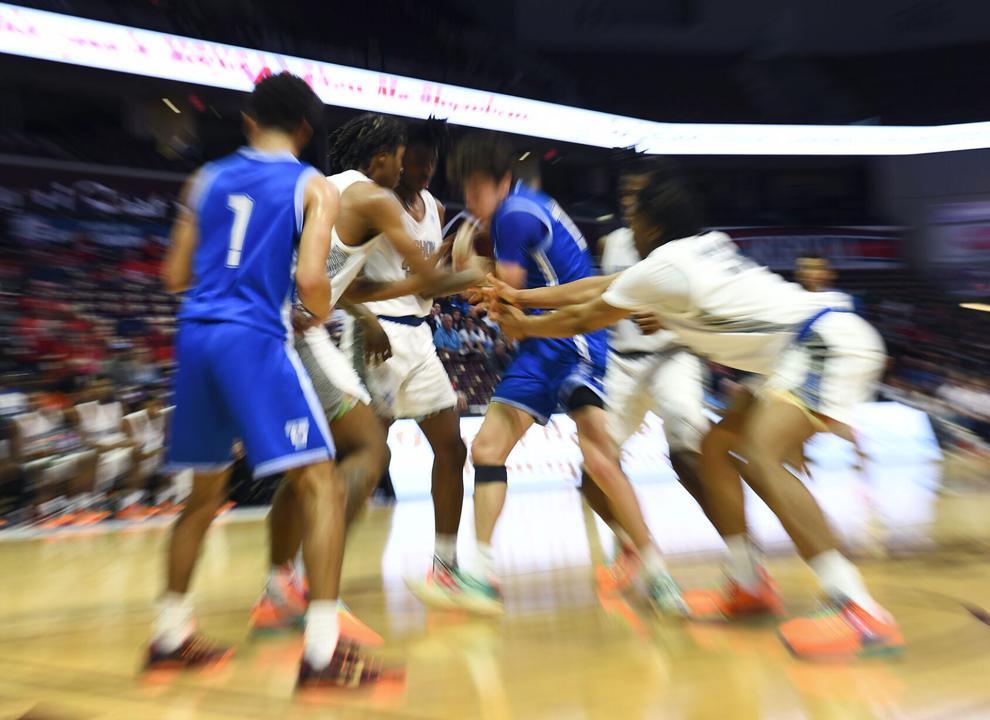 The sequence marked a four-point swing, as Tolton went from having an opportunity to tie the game to being down by four at the start of the fourth quarter.
"When you start talking about playing against really good teams, your margin for errors is really small," Irons said. "We missed a ton of free throws, but we did hit some timely ones."
Free-throw struggles affected both teams on Missouri State's home court. Tolton shot 15 of 24 from the charity stripe, but the Wolverines only knocked down 52.4% of their attempts.
These struggles were magnified in a fourth quarter that featured a total of eight missed free throws, five of which came from Vashon. Those missed opportunities epitomized a quieter quarter that had multiple minutes- long scoring droughts.
The Trailblazers, after rallying behind a 10-4 run between the third and fourth quarters, trimmed the Wolverines' lead to one early in the fourth. But Tolton turned the ball over five times in the game's final six minutes, however, spelling the end of its run.
"I think (Lee) and his teammates, more importantly, they've earned the right to be here," Osborne said.
"I don't think anybody expected us to be here at the beginning of the year, so we just kept our heard down and kept working."
Despite the loss, the Trailblazers will remain in Springfield to battle St. Joseph Lafayette at 10 a.m. Friday in the Class 4 third-place game.
The Fighting Irish dropped their semifinal contest 82-57 to Park Hills Central, which will play Vashon in the title game at 2 p.m. Friday.