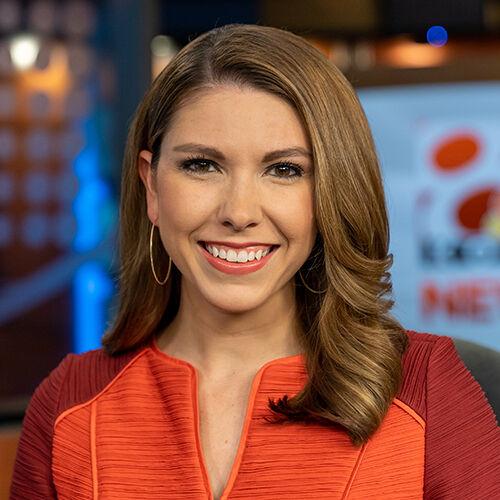 I'm thrilled to be a part of the news team I grew up watching. Columbia is where I was born and raised, graduated from the Missouri School of Journalism, and married my husband. I love telling stories in the place I call home! 
You can find me weekday evenings on KOMU 8 News at 5, 6, 9, and 10. I rejoined the station in 2017. You might have first gotten to know me when I worked as a morning anchor for KOMU 8 from 2012 to 2014. 
Before coming home to mid-Missouri, I spent three years in North Carolina working as a multimedia journalist for WFMY News 2 and a videographer for Duke Health. My husband and I also welcomed our first child, Catie, while living in Durham in 2016. 
My curiosity drove me into the TV news business and keeps me here. I'm passionate about uncovering the truth, holding the powerful accountable and giving all sides of the story a voice. I'm glad I can be an advocate for our viewers. 
To add a bright spot to our newscasts, I started my EmVP series recognizing the most valuable people in our community. I enjoy highlighting the good happening all around us here in mid-MO. You can submit your idea for an EmVP here. I'd love to hear from you!
My reports and anchoring have been recognized by the Missouri Broadcasters Association, the Society of Professional Journalists, and the Kansas City Press Club. I take pride in every part of the craft by shooting, writing and editing all of my stories.  
Some of my most memorable stories include wall-to-wall coverage of the South Carolina floods, a baby girl's journey to getting Cochlear implants to repair hearing loss, and a North Carolina sheriff who claimed the Department of Justice targeted him for alleged discrimination. 
When I'm not reporting, I'm spending time with my husband, daughter, son, and our sweet border collie, Duke. I love everything music, Mizzou football and getting outdoors! I'm also passionate about bringing awareness to congenital heart disease as my daughter was born with several complex heart defects in 2016. Reach out with your story ideas or just to say hello! And, thanks for watching Channel 8!