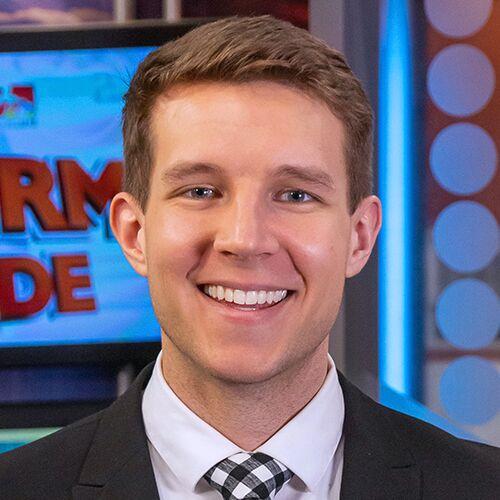 People ask me all the time, "What made you want to be a weather man?" Well, it has never really been a question in my mind. I grew up in Kearney, Neb. (located in central Nebraska), and the weather there changes just as much as it does here, with severe weather and blizzards and all that good stuff. I love it. I remember one time when I was a kid, I was out on the lake my family visited often and we were boating when dark clouds started to roll in, the winds picked up and it just got really eerie very fast. By the time we were able to get the skis and rope in the boat and head back to the dock, there were massive white cap waves coming over the boat. I hid under our inner tube with my cousins, and I was scared to death and thought that day would be my last. Thankfully, my father is a great driver, and we made it back safely. Afterwards, I was so thrilled. How did it happen so fast? One minute it was sunny and calm, and the next I was about to die. I was enthralled with weather from then on.
From a very young age, family and friends always said I would do something in weather because that's what I always talked about. However, to me it was a hobby, not a career. Then, in middle school, I started acting at the local community theater, and my whole world changed. I found my voice and my presence. I went on to do One Act (play competition), Speech, Mock Trial and Spring Play all throughout high school. Eventually, I realized that if I really wanted, I could combine these two hobbies (weather and performing/public speaking) and make a career as a broadcast meteorologist. That was a great realization.
I graduated from the University of Missouri with a Bachelor's of Science in Atmospheric Sciences. Becoming a meteorologist and fulfilling the dream I've had since I was a kid is my greatest accomplishment to date.
In my spare time I enjoy new adventures like: hiking, road trips, going to a new restaurant, tennis, cooking/grilling/baking and spending time with my friends without my phone. Quality time with my people is very important to me and technology usually only gets in the way of that…no phones at the table, please!
My favorite travels and adventures so far include: sky diving, walking on a (melting) glacier and in an ice cave in Iceland, learning to cook an authentic meal from scratch on a rural Italian farm, exploring Grand Teton National Park, eating fresh fish on the Mediterranean, exploring deserts in the SW USA, sand dunes in southern Colorado, the Rocky Mountains, rainy forests and snowy mountains in Washington State, swimming with wild dolphins in the open ocean off the South Carolina coast…and I haven't even touched my bucket list. If you have any questions about any of these travels because you'd like to do them yourself or if you have any travels of your own you'd like to share, just send me an email or DM! I love sharing travel stories, ideas, and tips. I share a lot of these on my various social media platforms, too.
I love Columbia and mid-Missouri. I've been here for about a third of my life so far, and that's fine by me. The people, the places, the community, the weather enthusiasts all give me a reason to show up ready to provide a forecast you can count on.
I'm genuine, honest, and you can bet I'll tell you how it is. I don't like to beat around the bush. You can be sure the forecast details I'm telling you are the same I would tell my family. I'll explain the science in ways you can understand and you might learn something new, too. I'm not someone who just reads a generic forecast; neither is my team. We create the forecast. We make the graphics. We talk constantly throughout the day/night so we're all on the same page and agree as a team on what we are seeing in the atmosphere.
As the Chief Meteorologist it is my goal to make sure we provide the best and most accurate coverage 24/7 so we're here when you need us and we warn you before the storm hits so you're not caught off guard. We are here for YOU! One of the ways we do this best, besides live on air during newscasts and Storm Mode coverage, is on the KOMU 8 Weather App. We've worked hard to make it the best weather app for mid-Missourians, and I mean that! Download it on Apple and Android devices and make sure "KOMU 8 Alerts" are turned on in the notifications section so you get updates directly from our First Alert Weather Center.
p.s. I love sunsets and clouds. If you send me sunrise/sunset and cloud pictures via social media or email you'll probably make my day. Click the social media icons above to follow along online!