Two Democrats set to challenge incumbent Republican for 4th congressional district
Posted on 1 October 2019 at 11:16pm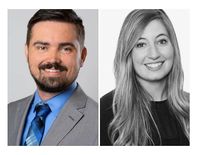 COLUMBIA - Two Democrats have entered the race to unseat Republican incumbent Vicky Hartzler in the 2020 race for Missouri's 4th congressional district.
Lindsey Simmons announced her bid Tuesday, and Erich Arvidson filed earlier this year.
This is Simmons' first time running for public office, and she faces an uphill battle. Hartzler, the presumptive Republican nominee, is in her 5th term and won the seat easily in 2018. Despite this, Simmons is optimistic.
"I grew up here, it's my home," Simmons said. "Historically, Missouri 4 is a Democrat district, it's not a district that is historically Republican. I think that in 2020 especially, this is gonna be an election that will be about change."
A seventh-generation Missourian, Simmons graduated from Missouri Valley College and then Harvard Law School. Simmons is married to a U.S. Army helicopter pilot, and said she became frustrated with Hartzler's lack of responsiveness when she was advocating for active duty military families.
"I just wanted to be heard," Simmons said. "To this day, I have yet to receive any response from (Hartzler) at all. That was really concerning for me."
Simmons said health care is another issue she intends to address if elected.
"It's important we have a health care system where people can make their decisions based on medicine and not the amount of money in their pockets," Simmons said. "And unfortunately that's not always the case right now."
Simmons is the second Democrat to declare for the race. Arvidson, a loan officer at Veterans United in Columbia, announced his candidacy earlier in the summer. Arvidson is originally from Delta, a town he described as having "a gas station, a bar and about seven stop signs."
Arvidson's campaign website lists rural healthcare, infrastructure, poverty and education as some of the issues he'll advocate for. He said he felt motivated to run after his father fell ill and passed away earlier this year.
"My sister and I were forced to make medical decisions based on what we could afford to give him, not necessarily what he needed," Arvidson said. "And that's when I decided that no other Missourian should have to deal with that pain, and I want to make sure we do whatever we can to get access to health care for everybody."
Both Simmons and Arvidson stressed the need for voices of workers and rural Missourians to be represented in legislation. Arvidson said he will fight for issues in rural Missouri, such as access to broadband and infrastructural improvements, that he said aren't currently being heard.
"We don't want our rural voters to feel forgotten, or feel left out, by either party," said Arvidson. "I want to make sure that we do whatever we can to let them know that people out there do care about what's going on in their small towns."
Most Popular Recent Stories