Columbia Tribune Black Friday edition "too big," causes delay
Posted on 25 November 2015 at 2:53pm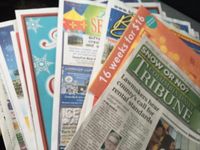 COLUMBIA – The Columbia Daily Tribune announced on its website Wednesday that it's Black Friday edition was too big.
The large amount of Black Friday ads prevented the Tribune from being able to package through its inserting equipment. Staff members had to package the paper by hand, causing a delay in delivery.
The Tribune is also selling papers curbside for the first time. Staff members started selling papers on the corner of 4th and Walnut streets in front of the administrative office beginning at noon Wednesday.
Copies of the paper can be purchased for $1.50.
Will you be shopping on Black Friday? Join our conversation on Facebook.
The photo below shows Tribune staff stuffing the papers by hand.
Most Popular Recent Stories