Boat catches fire at Lake of the Ozarks, 1 person injured
Posted on 23 July 2016 at 11:10pm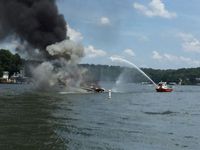 LAKE OF THE OZARKS — One person was injured after a boat caught on fire at the 38-mile marker by Silver Sands Marina Saturday afternoon.
According to a Missouri State Highway Patrol report, a boat's motor exploded when it was restarted after refueling.
Sherri L. Walker, 53, of Oak Grove, had moderate injuries from the incident and was transported to Lake Regional Hospital for treatment.
The boat was totally damaged as a result of the explosion.
The Sunrise Beach Fire Department and the Gravois Fire Department investigated the incident.
Most Popular Recent Stories