Boone County steps up on mental health issues
Posted on 6 October 2016 at 5:19pm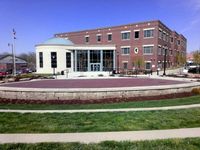 COLUMBIA - Boone County is joining the Stepping Up Initiative to help people with mental issues stay out of jail.
"The first and very narrow focus is to look at the population in our jail and to say is there a better way to address that populations need than to put them in jail to detain them there," said Janet Thompson, Boone County District 2 Commissioner.
There are 303 counties across the nation that have joined the Stepping Up Initiative. Boone County is only the third county in Missouri, along with Adair and Pettis County.
"If we utilize our resources better we can divert them from going into jail or the department of corrections in the first place," Thompson said.
In May of 2015, the County Commission issued a proclamation saying Boone County would be joining the Stepping Up Initiative. Since then, roughly 40 different organizations and professional facilities have joined, including the Boone County Sherriff's Department, Burrell Behavioral Health, and Youth Empowerment Zone.
Each year, there are an estimated 2 million people with serious mental illnesses admitted to jails across the nation, according to the initiative's website. It says people with mental illnesses who have been incarcerated tend to stay longer in jail and are at a higher risk of returning to incarceration.
Rusty Antel, the chairman of the Boone County judicial law enforcement task force, said he hopes the initiative will create a hotline to help people in need.
"There's got to be a central number that you can call to get help and then a central location where you can go to get that help, and that's what I think is the only way it can work," Antel said.
The Stepping Up Initiative has information on its website for anyone wishing to get involved.
Most Popular Recent Stories