Missouri Attorney General joins anti Affordable Care Act alliance
Posted on 26 February 2018 at 6:29pm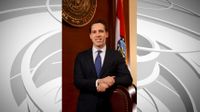 JEFFERSON CITY - Missouri Attorney General Josh Hawley joined 20 other states in a coalition that urges a Texas federal district court to hold the Affordable Care Act's individual mandate unconstitutional.
A press release issued today states that the complaint, also filed today, "explains that the ACA, as recently amended, forces an unconstitutional regime onto the states and their citizens."
"The Affordable Care Act was never constitutional," Hawley said. "My office will continue to fight to take health care choices out of the hands of DC bureaucrats and put them in the hands of families and physicians."
Other states in the coalition include Alabama, Arizona, Arkansas, Florida, Georgia, Indiana, Kansas, Louisiana, Maine, Mississippi, Nebraska, North Dakota, South Carolina, South Dakota, Tennessee, Utah and West Virginia.
Most Popular Recent Stories