MUPD looking for suspect in theft at Hitt Street parking garage
Posted on 13 June 2018 at 10:10am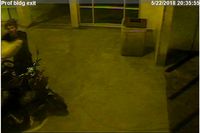 COLUMBIA - A theft occurred on MU campus at Hitt Street parking garage.
The theft happened May, 22 2018 around 8:30 at night.
The University of Missouri Police Department is investigating the suspect in the photos above.
If you have any information on this person contact Detective Sam Easley, or Public Safety Information Specialist Sara Diedrich at (573) 882-3243.
Most Popular Recent Stories