Planned Parenthood says abortions at Columbia site could end
Posted on 20 September 2018 at 4:43pm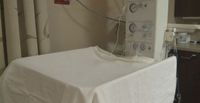 JEFFERSON CITY (AP) — Planned Parenthood says abortions will stop at its Columbia clinic after Oct. 1 unless a federal judge blocks some Missouri abortion restrictions.
The organization is asking for a court order to stop Missouri from requiring doctors at the Columbia location to get admitting privileges at nearby hospitals in order to perform abortions.
The request comes after the 8th U.S. Circuit Court of Appeals this month lifted a preliminary injunction that put that regulation on hold.
Lawyers for Planned Parenthood in court documents wrote that the Columbia clinic cannot comply with the physician privileges requirement. The organization says enforcing that regulation will mean only the St. Louis Planned Parenthood will provide abortions.
The Missouri Attorney General's Office, which is defending the regulations, didn't immediately return a request for comment Thursday.
Most Popular Recent Stories