Sheriff: Man tries running over girlfriend and son with truck
Posted on 15 October 2018 at 12:28pm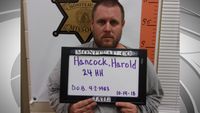 MONITEAU COUNTY- A man was arrested and accused of trying to run over his girlfriend and son with a truck on Sunday.
Deputies said the girlfriend and son were in an utility-terrain vehicle and the suspect, Timothy H. Hancock, was chasing them with his truck, apparently trying to hit them.
It happened on Old Hwy. 5, just outside Fortuna.
The sheriff's office said, when a deputy exited a patrol vehicle, Hancock jumped out of his truck and threatened them.
Hancock was put on the ground at gun point and handcuffed, the sheriff's office said.
Hancock faces charges of first degree domestic assault, armed criminal action and endangering the welfare of a child. His bond was set at $150,000.
Hancock is "being charged as a prior and persistent felony offender with enhanced range of punishment," the sheriff's office said.
Most Popular Recent Stories