Mizzou soccer honors seniors with 2-0 triumph
Posted on 21 October 2018 at 9:58pm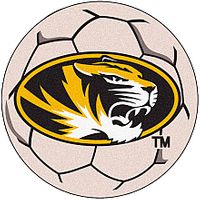 Columbia - The Missouri soccer team scored a critical 2-0 victory over Florida on senior day at Walton Stadium. The victory over the Gators was the second in program history. More importantly, the win gives the Tigers 10 points in the SEC and keeps their postseason hopes alive with one match left in the regular season.
The Tigers got the scoring started quickly in the 10th minute when Jefferson City native Sarah Luebbert notched her fourth goal of the season. Bella Alessi played a spectacular ball across the face of the goal, and all Luebbert had to do was tap it in to put the Tigers ahead 1-0. Skye Kingsley added an important insurance goal in the 65th minute.
The Tiger defense was outstanding on Sunday afternoon and limited Florida to just four shots on goal, as Kelsey Dossey recorded her 11th career shutout.
Mizzou will travel to Knoxville, TN for the regular season finale with the Volunteers. The match will have postseason ramifications, as multiple spots in the annual SEC tournament remain available to multiple teams in a crowded Southeastern Conference.
Most Popular Recent Stories