Dog groomer trains service animals to give back to community
Posted on 9 December 2018 at 3:08pm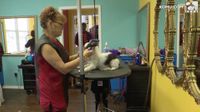 OSAGE BEACH – A dog groomer in Osage Beach has made it a mission to train service dogs after she had to rely on one while recovering from a severe car crash.
Alice Richter was in a body cast for 18 months. During her time in the hospital, a very special dog named Massey became a source of comfort and inspiration.
"When I had that car accident, I had a lot of pain," Richter said. "There were days I would sit on that bed and go 'I can't do this another day. I can't suffer this.'"
As she recovered, the community helped raise funds to get her back on her feet. Richter said she wanted to give back.
"I decided this is what I had to do," she said.
Richter is now the owner of Golden Paws Pet Styling Academy Alice-N-Wondergrooms and Wonderdog Training. During the day, she groom dogs. She also does classes to help others learn how to groom dogs as well.
She said she hopes it may inspire other people to start businesses.
"I want for people that need me to have the opportunity to be successful," she said.
The rest of her time is devoted to training dogs to become service animals.
"I began a breeding program," she said. "That's when I specifically started designing a breeding program for service dogs.
After sending Massey off to become a service animal, Richter said, she became inspired to begin training her own dogs to help others. She studied and graduated at the Tom Rose School to learn how to properly train service animals.
Many of her dogs are now helping people in the community.
"We've got nine out of nine alert dogs alerting," Richter said.
According to the Diabetic Alert Dogs of America, dogs may be trained to alert people with diabetes if their blood sugar becomes too high or too low.
"We've got one with a little girl that has POTS, which is where your blood pressure drops and they just faint," Richter said.
She said dogs can also be trained to alert people to oncoming seizures.
She said her main goal is she wants to help the community in any way she can.
Most Popular Recent Stories