Columbia man accused of shots fired in Steak 'n Shake
Posted on 9 December 2018 at 11:38am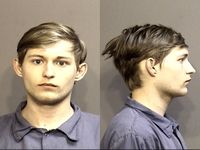 COLUMBIA - Officers with the Columbia Police Department responded to a shots fired call inside the Steak 'n Shake on W. Worley Street just before 1 a.m. Sunday.
According to a release, officers found evidence of a shot fired into the ceiling. The suspect left the area before police arrived.
There were no injuries and only minor property damage.
During the investigation, police identified 19-year-old Reiss Alan Favinger of Columbia as a suspect. The investigation revealed Favinger was an employee at Steak 'n Shake and was upset because of pending employment issues.
Police searched the area and called in a K-9 officer to help. Police found Favinger about a block away after a short search.
Police arrested Favinger for unlawful use of a weapon, armed criminal action, possession of a controlled substance and resisting arrest and later taken to the Boone County Jail.
Anyone with additional information is asked to contact the Columbia Police Department at 573-874-7652 or Crimestoppers at 573-875-TIPS (8477) to remain anonymous.
Most Popular Recent Stories