COLUMBIA - Kaiser Health News released an analysis in January that showed Black Americans nationwide are receiving the vaccine at lower rates. 
The analysis showed that about 3% of Americans across the country had received at lease one dose of the vaccine. In the 16 states that have released data by race, white residents have been vaccinated at higher rates than Black residents. 
In some states, white residents have been vaccinated two or three times higher than Black residents. Kaiser Health says these disparities may be because of systematic racism in health care, a lack of trust in the vaccine from the Black community - or both.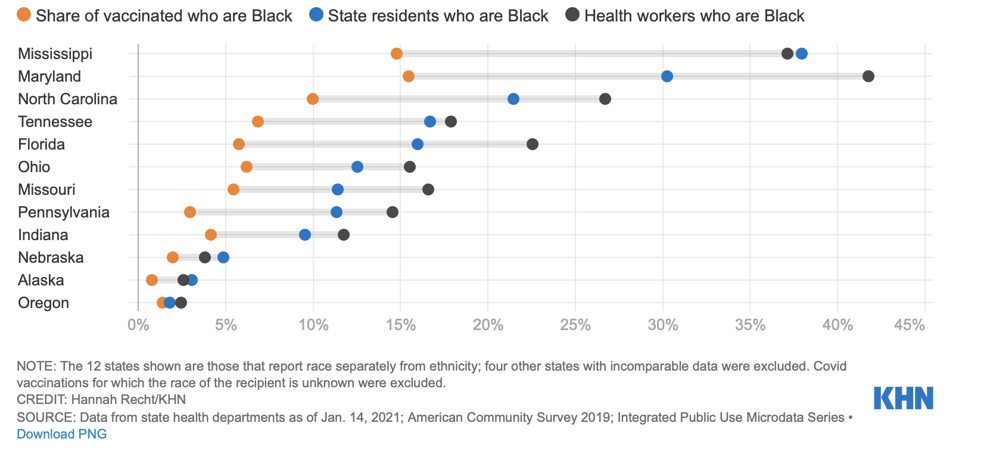 According to Missouri's COVID-19 dashboard, the state has given out at least one dose to more than 400,000 residents. 
2.1% of the total number of Black residents have received at least one dose of the vaccine compared to the total number of white residents. 16.8% of the total number of residents who identified as multi-racial received at least one dose. 
"It just makes me mad," said President of the Columbia Chapter of the NAACP Mary Ratliff. 
Ratliff has been going to the Boone County Health Department to speak with them about what the department can and should do to reach out to the Black community about vaccinations. 
Ratliff said it's important for the Black community to receive vaccinations because of the way the virus is affecting the community. 
According to the CDC, Black, Latino and Native Americans are almost three times more likely to die from the virus than white Americans across the country. 
Ratliff believes that if the Black community knew when and where vaccines were being given, the numbers of those vaccinated would increase. She also says more people will trust the vaccine if they see more people getting it in the community.
"Word is out that African American folks are refusing to take the vaccine," Ratliff said. "I don't believe that as so much the fact that the Black folks don't know when the vaccines are being given, when they are being given."
Ratliff says she will continue to go to the health department to advocate for the Black community.
In Phase 2 of Missouri's eligibility tiers, the state will prioritize racial and ethnic minorities. Phase 2 is the last stage before the vaccine becomes available to the wider public.