COLUMBIA - Nikki Rufo has been on both sides of vaccination - as a patient and provider.
Rufo, a CNA, received her Pfizer vaccine Monday, Jan. 25, then the next day went in to help others make sure they were able to get their vaccine.
On Friday, MU Health Care had a line out the door to get the vaccine, which is now available to people other than healthcare workers.
Rufo said over the course of her eight-hour shift, she saw a peak of about 50 people getting their vaccine at one time at Faurot Field.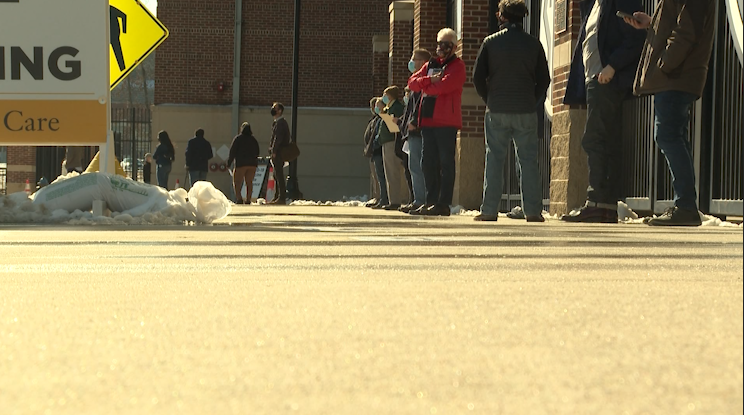 "I was just smiling under my mask the whole time," Rufo said. "It was probably one of the best days at work I ever had."
MU Health Care Infectious Disease Specialist Taylor Nelson said she's feeling optimistic too.
"I would say it's sort of a collective sense of just being more hopeful than we have been for some time," Nelson said. "And having reviewed all the evidence and things, I mean, we should have a reason to have hope with these vaccines - they are effective."
MU Health Care hopes to vaccinate 1,000 people per day at Faurot Field, once they get the supply to give that many doses.
"We're looking forward to hitting that number as soon as we receive the vaccine doses to do so," MU Health Care said in a press release.
Meanwhile, cases of COVID-19 are falling across mid-Missouri-- a fact Rufo said gives her hope.
"It is really, refreshing and it's like a weight off your shoulders knowing that those numbers have gone down, especially going to work," Rufo said.
Last Friday, Jan. 22, Missouri had a 7-day positivity rate of 11.7%. In the latest update, Missouri had a 9.9% 7-day positivity rate. 
Boone County went from a 29.3% 7-day positivity rate for the week of Jan. 8-14, to a 19.2% positivity rate for the week of Jan. 15-21.
The complicating factor in all this good news is the new strain variants that have made their way into the United States. According to Nelson, they are probably more widespread than officials originally thought.
But Nelson said when and if the variant does make its way into mid-Missouri, lower COVID-19 cases and hospitalizations now will pay off if numbers spike.
"Having decreased numbers of cases now, it allows physically having space to take on potentially more people, if we do see a spike, and having the staff to be able to do that," Nelson said.
So while Nelson said this good news should not keep people from remaining vigilant - there is also cause for hope.
"The more and more we can roll out vaccines and increase the number of people who can get the vaccines, I think we'll start to continue or continue to feel better and more hopeful as we go," Nelson said.