BOONE COUNTY - On Tuesday, the Columbia/Boone County Public Health and Human Services reported one new COVID-19 case. 
The county hasn't reported this low of new COVID-19 positive cases since June 11.
There are currently 276 active cases in Boone County. According to the Missouri's Department of Health and Senior Services (DHSS), Boone County is currently ranked No. 34 for cases in the state of Missouri. The county reports a total of 25,436 confirmed COVID-19 cases to date in Boone County.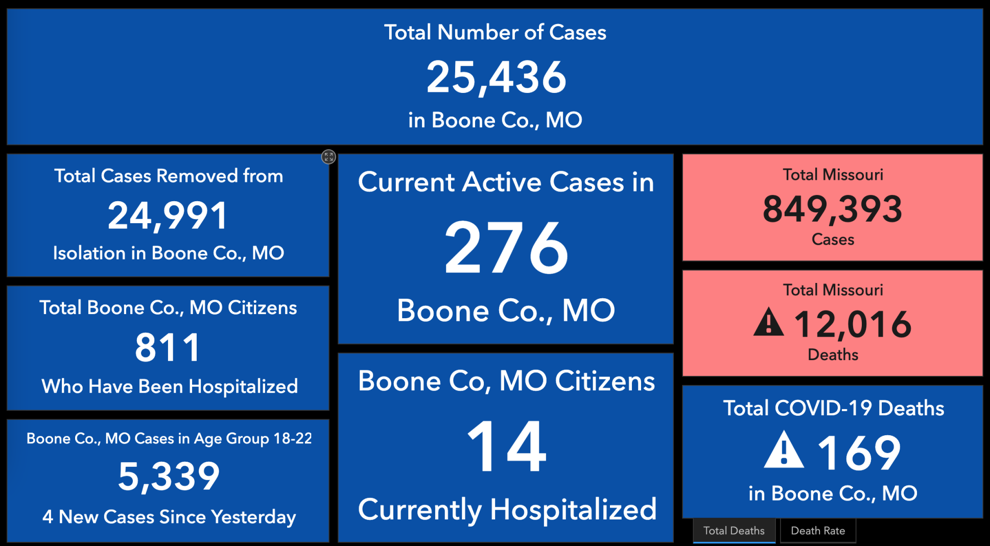 According to DHSS, Boone County has a positivity rate of 8.49% and is ranked No. 108 in positivity rates in counties in Missouri. In the past seven days, there has been a 0.9% increase in positivity rates.
Chief Medical Officer at Boone Health Robin Blount said they have seen a dramatic decrease in COVID-19 cases from September to October.
"The last several weeks, we've really stayed steady with anywhere from 12 to 14 [COVID] patients at any given time in the hospital," Blount said. "We're down to generally four or five patients in the ICU and zero to two patients on the ventilators."
Blount said they have seen a big decline since August when there were 40 patients in the hospital due to COVID-19 and close to 20 in the ICU.
The decrease in patients with COVID-19 is due to many factors, according to Blount.
"Missouri is still under 50% total vaccination, but Boone County is certainly better than that, at 52.4%," Blount said. "Vaccines are important. You have to also wonder with this huge surge that we had all through Missouri with lots and lots of cases, that there may be some natural immunity they're contributing."
As we approach cold and flu season, Blount said wearing masks helps cut the spread.
"If you start getting a lot of people sick with flu, those people are going to be more vulnerable to COVID-19," Blount said. "Anytime your immune system is down from another illness, you very well could be more susceptible to COVID-19."
Blount said Boone Health has yet to see any flu cases yet this season.
While COVID-19 cases have decreased in hospitals in Boone County, Blount emphasized the importance of getting vaccinated.
"We still have counties in the state that are only 20% vaccinated and that's just asking for trouble," Blount said. "We've lost so many lives and we don't have to do that anymore. We can protect ourselves and we can protect each other, so get vaccinated."
MU Health Care also reported seeing less patients for COVID-19 in the past months.
As of Tuesday, MU Health Care reported 22 COVID-19 inpatients. Five of those 22 are vaccinated and 17 are unvaccinated. There are a total of 12 ICU patients, two of those patients are vaccinated and 10 are unvaccinated. They also reported eight patients on ventilators with one of them being vaccinated and seven unvaccinated.
The health department's hospital status is yellow with 41 current COVID-19 hospitalizations, 14 them being Boone County citizens. Out of the 41 cases, seven patients are on ventilators.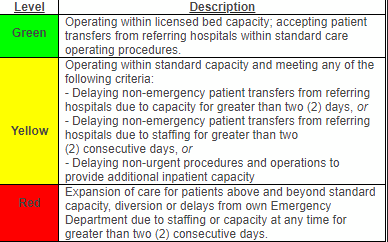 According to the state dashboard, 57.8% of Boone County citizens have initiated the vaccine and 52.4% are fully vaccinated.