COLUMBIA - A local gymnastics facility is back to summer camp and summer practices for the first time since the pandemic. 
This comes after recent CDC guidelines say summer youth camps are safe if precautions like daily health checks and bringing in fresh air are followed.
For the owners of Authority Gymnastics, like many other people, the pandemic changed a lot of what they were used to.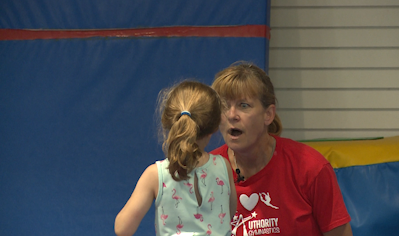 "It was rough on us," co-owner Jonathan Liddle said. "But it was rough on the kids too. A lot of the girls who train multiple hours a week here, their social system is basically gymnastics."
Jonathan Liddle and Shari Mann converted the gym into a space for learning pods for children in kindergarten through sixth grade.
"We had about 25-30 kids at one time getting on the Internet here with our supervision to help them turn in assignments and figure out what they needed to do," Liddle said. "It was so brand new for everybody." 
When Columbia Public Schools returned to in-person learning, the husband and wife team stopped offering learning pods, and looked ahead to the summer. 
Summer camps are back in full-swing at Authority Gymnastics. Kids participate in obstacle courses, arts and crafts, and spend time together.
Mann said this is a positive leap forward. 
"I think they need to have the camaraderie, they need to be together," she said. "They also need the physical activity."
According to an MU Health Care Child and Adolescent Psychiatrist, the return to in-person activities like summer camps is an adjustment for everyone, especially younger children.
"We are seeing, in the short term, an increase in mental health concerns like depression and anxiety that might not have existed at the level of needing treatment and the past, and now does," Dr. Laine Young-Walker said.
She said the best thing for parents to do right now is to constantly check-in with their children and how they're feeling about all summer activities.
"A parent needs to keep the door of communication open between them and their child," Dr. Young-Walker said. "The child should know they can talk to their parent no matter what about how they're feeling and what they're experiencing."
For Shari Mann, there's nothing better than familiar sounds of a summer spent in the gym.
"I love having the sounds of the cheering and the team spirit back," she said.