COLUMBIA — MU Health Care accidentally invited some MU students to sign-up to receive the COVID-19 vaccine over the weekend.
The email, sent out on Dec. 30, asked students to make an appointment to get the first round of the vaccine on Jan. 3.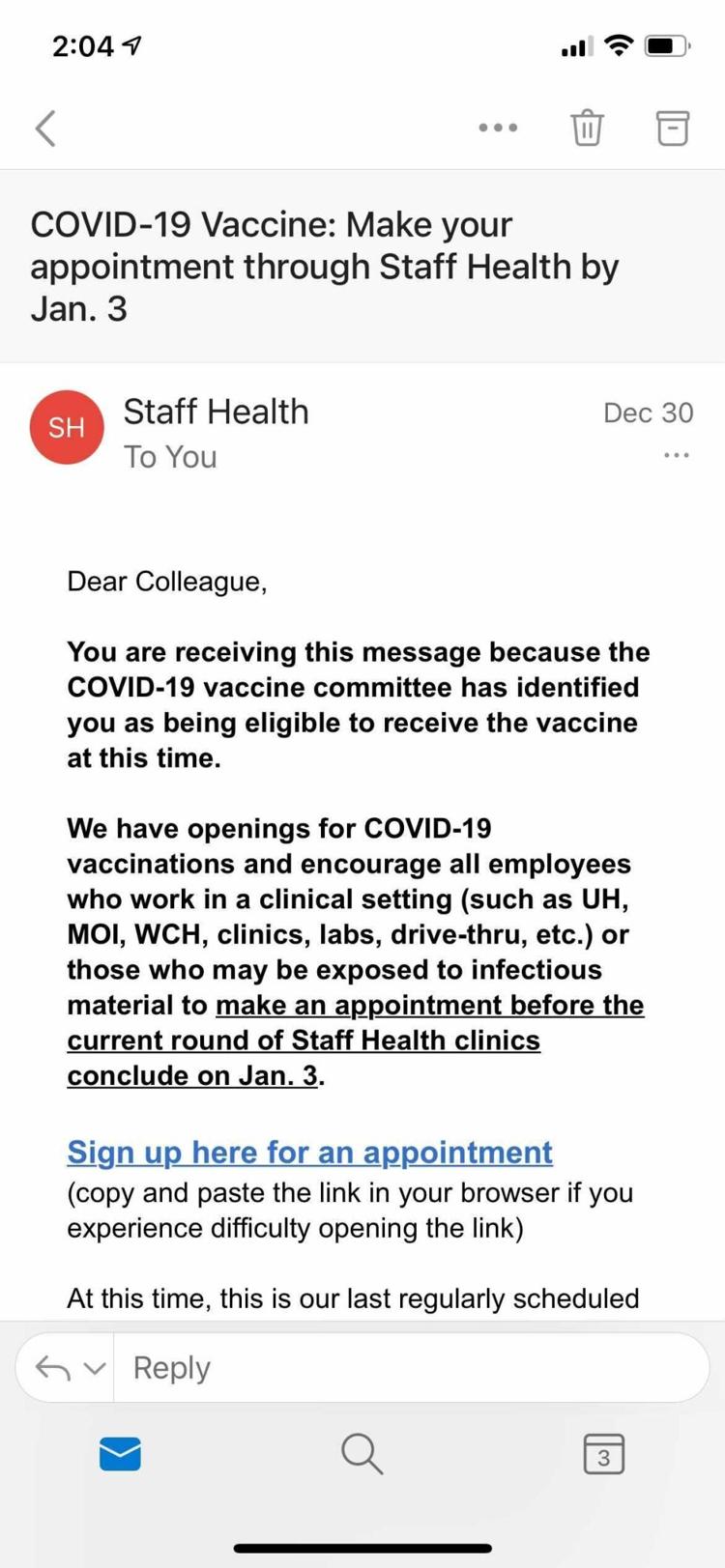 However, a second email sent on Jan. 3 claimed the initial email was only intended for students "if they are also a current, active employee who has direct patient contact."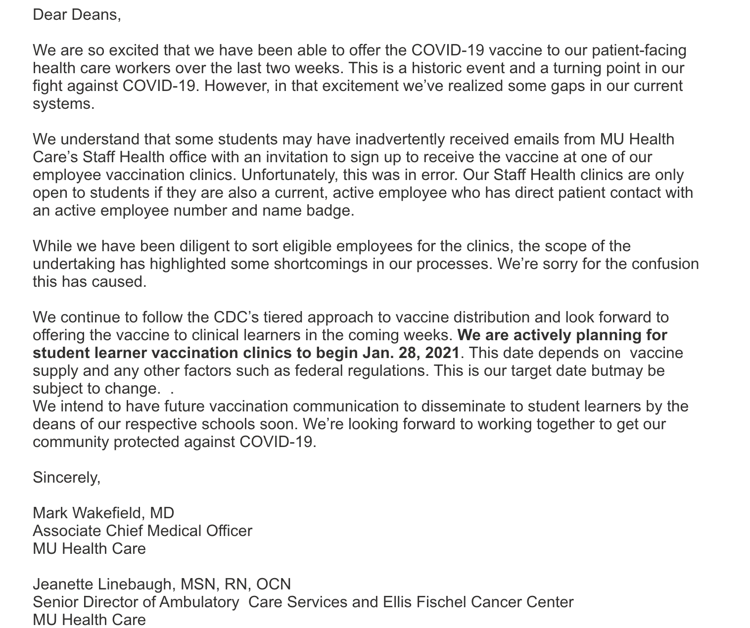 The email was intended to be sent Dec. 31, but it was not forwarded to all of the affected students before all of the student vaccine appointments.
Brooke Pulliam, an MU nursing student, received the vaccine, despite not being an active employee of MU Health Care.
"About like an hour and a half after I had gotten the vaccine at the hospital, I got the email that said to like ignore the previous email and that it had accidentally been sent to people that it wasn't supposed to be sent to," Pulliam said.
It is unclear if other students who weren't eligible received the vaccine.
When KOMU 8 reached out to MU Health Care for a comment, Eric Maze responded: "No one would have accidentally been given the vaccine. If the student had a concurrent appointment as an employee, they may have received a vaccination as part of their employment with MU Health Care."
Some students traveled to Columbia only to be turned away when they arrived.
Megan Hutchinson, also an MU nursing student, drove from Kansas City to receive the vaccine.
"I got excited because it was like the light at the end of the tunnel," Hutchinson said. "I signed up for my time and received at least two confirmation emails stating my time and the location."
The nurse who checked in Hutchinson for her appointment recognized her badge only showed she was a nursing student and informed her that they would not be vaccinating students at this time.
Pulliam said she checked in with a similar badge, but no one noticed that she was not an active employee.
After Hutchinson was denied, the second email was sent out to notify students that they were not eligible to receive the vaccine at this time.
The follow-up MU Health Care email confirmed they still intend for clinical students to get the vaccine starting Jan. 28.
The date is subject to change depending on vaccine supply and federal regulations.