ASHLAND - The Southern Boone School Board of Education voted to remove its mask mandate Thursday evening.
During a special board meeting, members voted 4-3 to remove the mask requirement policy from the district's Safe Return to In-Person Instruction and Continuity of Service Plan.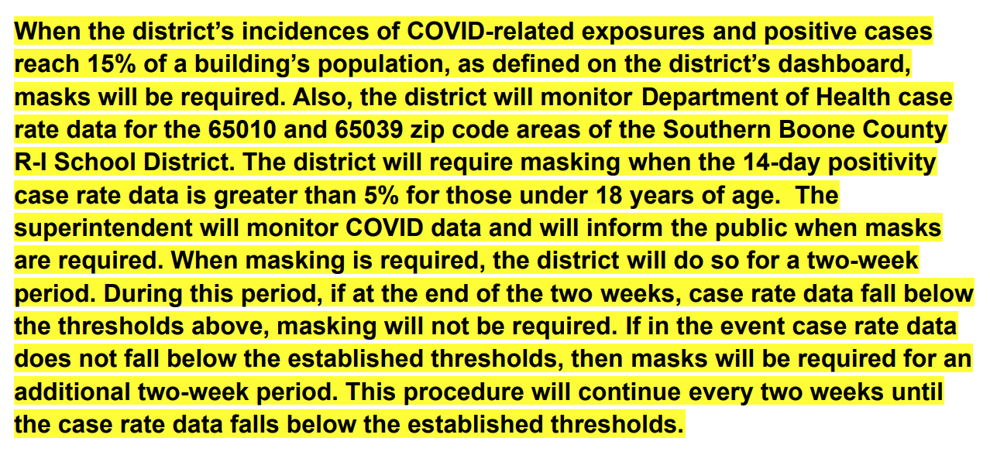 Southern Boone Superintendent Christopher Felmlee said that effective immediately, all buildings are no longer requiring masks to be worn.
One parent said she was confused on the reasoning for taking away the mask policy. However, she says her kids will still wear masks at school. 
"We have a daughter that is autoimmune," Katie Cobb explained. "She has an autoimmune disorder. She's immunocompromised. So if she has any exposure she has to quarantine."
Federal regulations continue to require everyone on school buses to wear a mask. 
The vote comes after Southern Boone Elementary School implemented a mask mandate last week, and Southern Boone Middle School implemented a mask mandate just Thursday morning. Each school cited 15% of the building's population was out due to COVID related positive cases or quarantines.
According to the district's website, there are currently 28 student and five staff active COVID-19 cases. There are 199 students and one staff member in quarantine.