COLUMBIA - The Centers for Disease Control and Prevention released updated guidelines last week for youth summer camps during the COVID-19 pandemic.
The guidelines suggest that those who can get vaccinated against COVID-19 should do so, particularly staff members and volunteers.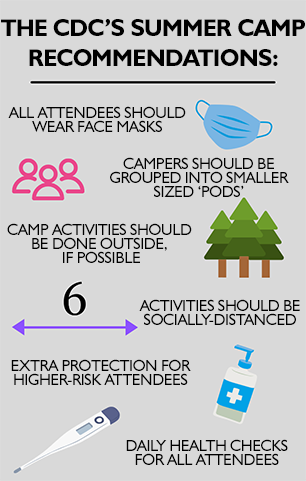 It notes that children are not yet eligible for the vaccine at this point, therefore other safety protocol should be followed. The CDC advises that everyone should still wear masks, distance from one another, and spend as much time outside during the camps as possible.
The updated guidelines also state that during any indoor-activities, camp staff should "bring in as much fresh air" into the buildings as possible.
Kristen Hasan is a Columbia mother who has one child enrolled in MU's Adventure Club. With both her and her husband working full-time through the pandemic, Hasan said the program "was a huge life saver."
She said the Adventure Club has been transparent with parents about the potential risks of spreading COVID-19 during her son's time with the program.
"They would even tell us whether or not my specific child had contact," she said. "Which I appreciated just because it made you feel like they were kind of keeping their finger on the pulse and not just letting you know, glossing over at all."
Greta Gisi, program coordinator for Adventure Club, said they will take the recommendations from the CDC as well as following guidelines from the University of Missouri, Columbia Public Schools and the Columbia/Boone County Health Department to operate their summer programs.
Hasan believes the social interactions and benefits that come with the summer camps for kids outweigh the potential risks at this point in the pandemic.
"If I want him to wear a mask, he will wear a mask, if other people won't, that's not really up to us," she said. "My husband and I have both been vaccinated … so my concern levels are a little lower at this point."
The CDC's guidelines for masking remain relatively stringent. It reads: "All people in camp facilities should wear masks at all times with exceptions for certain people, or for certain settings or activities, such as while eating and drinking or swimming."
Hasan wanted to emphasize the importance of community support behind programs like these, for parents who use them for childcare while school is not in session.
"I think it's important for the community to support the programs because if they don't have a space large enough for a group or something," she said.
"If the community can kind of band together and figure out a way that they could offer that and still be able to do all the precautions that a lot of parents are still looking for, it would be even more helpful to the whole city of Columbia."