As COVID-19 continues to spread, KOMU 8 will continue to update you about impacts in the community.
Layered bar/line charts with the daily change in newly confirmed cases of COVID-19 reported in each county and a 14-day rolling average of the changes in new cases are available here.
Previous coverage:   
Updates for Tuesday, April 27 will become available below:
4:28: Boone County reports 43.4 percent of the population has initiated vaccination
The Columbia/Boone County Department of Public Health & Human Services reported 5 new COVID-19 cases in the past 24 hours, bringing the total number of active cases to 106.
According to the Missouri vaccine dashboard, an estimated 43.4% of Boone County's 180,463 residents have received at least one vaccine dose. 
132,293 total doses administered of a vaccine

78,315 COVID-19 vaccine regimen activated

55,575 COVID-19 vaccine regimen completed

5,684 doses have been administered in the past 7 days
The county also reported 6 hospitalizations, 1 of which are Boone County residents.  There are currently 4 COVID-19 patients in the ICU and 1 on a ventilator.
The hospital status is currently at green.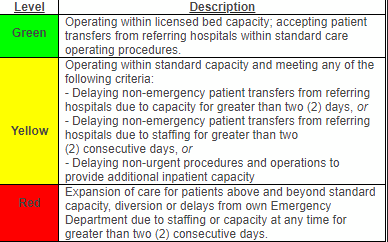 According to New York Times data, which is on a two-day delay, the 14-day rolling case average in the county is 13.86.
4:25 p.m.: Vaccination clinic held in Martinsburg on Wednesday
The Audrain County Health Department will host a vaccination clinic in Martinsburg on Wednesday, April 28.
The event will take place from 8 a.m. to 4 p.. at the Martinsburg Community Room, located at 201 Washington Street.
The Moderna vaccine will be administrated. Walk-ins are welcome, or sign up on Missouri's Vaccine Navigator.
9 a.m.: State launches Spanish version of Missouri Vaccine Navigator
The Missouri Department of Health and Senior Services announced the launch of a Spanish language version of the Missouri Vaccine Navigator, its resource to help Missouri residents find and receive a COVID-19 vaccine. DHSS says other languages will be available soon. 
From DHSS: To help share this resource, the below announcement has been translated into Spanish with the assistance of our partners at the Office of the Consulate of Mexico in Kansas City.  
Missouri's Vaccine Navigator, a tool that helps you schedule a COVID-19 vaccine appointment, is now available in Spanish—with more languages coming soon! All Missourians over the age of 16 are now eligible to get a COVID-19 vaccine. Register with the Vaccine Navigator to find events all around Missouri.
El Navegador de Vacunas de Missouri, una herramienta que lo ayuda a programar una cita para obtener la vacuna COVID-19, ya está disponible en español ¡Próximamente estará disponible en más idiomas! Todos los habitantes de Missouri mayores de 16 años ahora son elegibles para recibir la vacuna COVID-19. Regístrese usando el  Navegador de Vacunas de Missouri para encontrar eventos en todo Missouri.
8:00 a.m.: Total Missouri case count surpasses 500,000
The Missouri Department of Health and Senior Services added 322 new COVID-19 cases in the last 24 hours. The total number of cases in Missouri now stands at 500,071. 
DHSS reported 37 new deaths in the last 24 hours, 34 from previous months. The total number of COVID-19 related deaths since the pandemic began is 8,732.
DHSS started reporting vaccination data on Jan. 27. Numbers will update as providers report data to the state. According to the dashboard, differences between the state's data and the CDC data is due to timing. 
3,767,886 total doses administered 

2,261,816 COVID-19 vaccine regimens activated

1,625,695 COVID-19 vaccine regimens completed

36.9% of the Missouri population has initiated vaccination 

26.5% of the Missouri population has competed vaccination
Hospitalizations and hospital bed capacity data is on a two-day delay. There are 753 total hospitalizations in the state with 33% remaining total hospital bed capacity.
In the last seven days, there have been 2,092 positive cases of the virus. The single-day case average now stands at 299. 
As of Nov. 19, DHSS has moved to report only the CDC method positivity rate. As of April, over 4.9 million Missourians have already been tested by PCR at least once. As a result, if they test negatively again, they will not be counted in the latest 7-day state-method positivity rate.
Missouri currently has a 4.8% 7-day positivity rate with the CDC method.
The World Health Organization (WHO) recommends positivity rates in testing should remain at 5% or lower for at least 14 days.