As COVID-19 continues to spread, KOMU 8 will continue to update you about impacts in the community.
Layered bar/line charts with the daily change in newly confirmed cases of COVID-19 reported in each county and a 14-day rolling average of the changes in new cases are available here.
Previous coverage:
Updates for Wednesday, Jan. 20 will become available below: 
6:45 p.m.: Callaway County's active cases decrease by 76
Callaway County's now has a total of 318 active cases, a decrease of 76 from Tuesday. There have been a total of 3,575 cases in Callaway County since the start of the pandemic.
According to the Callaway County COVID-19 dashboard, there are an additional 41 cases in the Callaway County Department of Corrections and one case in the Fulton State Hospital.
There have been a total of 34 deaths in the county since the start of the pandemic.
6:40 p.m.: Cole County adds 15 new active cases
The Cole County Health Department will now show positive case totals by day, which reflects the date the specimen was collected instead of the date the results were received by the Health Department.
This change will cause a delay in the daily totals being reported for the current day. The county is also no longer reporting active or isolated cases.
As of Tuesday, there have been 7,247 cases in Cole County, an increase of 15 cases from the previous day. There have been 268 cases in long-term care facilities.
15 new positive cases were reported Wednesday. In the updated graph below, you can see the number of cases added by specimen collection date for the month of January thus far.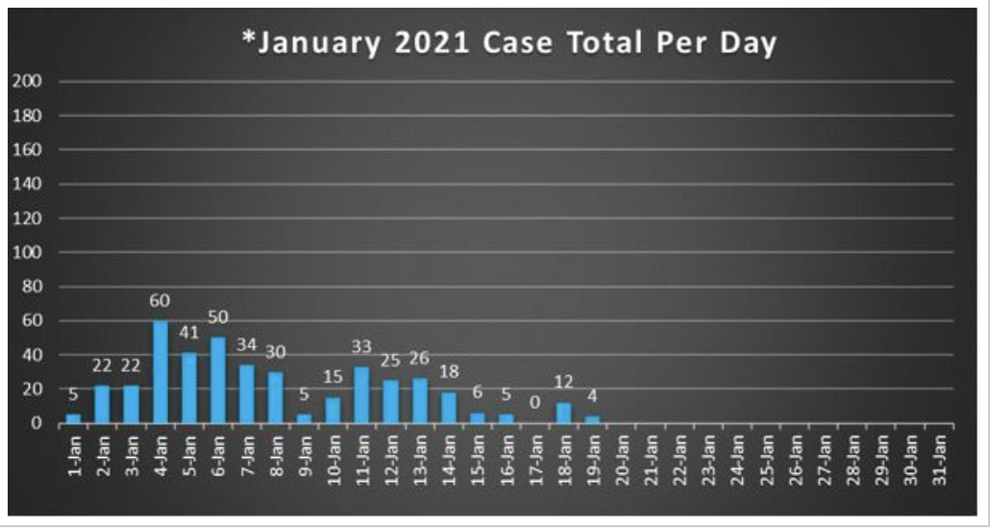 5:40 p.m.: MU adds 5 new student cases
MU added 5 student cases over the last 24 hours, marking a total of 47 active student cases. There have been 2,903 student case recoveries, and five students have been hospitalized since the start of the pandemic. All five students have been discharged.
According to the dashboard, MU's 7-day student case average is 46.
5:30 p.m.: CPS 14-day case rate 
The Columbia Public Schools 14-day case rate per 10,000 people is at 70.4.
The updated CPS student tracker shows 183 students in the district currently in quarantine and 232 active student cases.
To break the student cases down: 
Elementary schools: 109 quarantined, 21 positive cases, 19 out of 21 schools affected
Middle schools: 40 quarantined, 13 positive case, 7 out of 7 schools affected
High schools: 27 quarantined, 15 positive cases, 4 out of 4 schools affected
Other: 23 quarantined, 2 positive cases
The district has seen 1,876 quarantined student cases and 467 positive student cases since June 2020. 
The updated CPS staff tracker also shows 48 staff members currently in quarantine and 12 active staff cases. 20 staff members are out due to EFMLA laws.
4:55 p.m.: Boone County reports 90 new cases, sees drop in hospitalizations 
The Columbia/Boone County Department of Public Health & Human Services reported 90 new COVID-19 cases in the past 24 hours, bringing the total number of active cases to 702.
The county also reported 86 hospitalizations, 31 of which are Boone County residents. There are currently 20 COVID-19 patients in the ICU and 10 on a ventilator.
The hospital status is currently at yellow.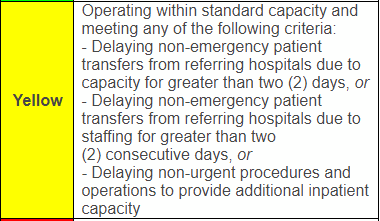 According to New York Times data, which is on a two-day delay, the 14-day rolling case average in the county is 101.07.
1 p.m.: Audrain County reports five new COVID-19 cases
The Audrain County Health Department is reporting five new positive cases since the last report. There are now 75 total active cases. 
The county is reporting 1,629 total cases with 1,504 recovered. Mexico is reporting 51 cases and Vandalia is reporting 13 cases. 
There have been 50 deaths in Audrain County due to COVID-19. 
10 a.m.: Missouri reports 1,592 new COVID-19 cases
The Missouri Department of Health and Senior Services is reporting 1,592 new COVID-19 cases in the last 24 hours. This brings the total number of cases in the state to 441,789. 
The state is also reporting 198 new COVID-19 related deaths in the last 24 hours. However, the department reported Tuesday 156 of the deaths included in Wednesday's count were not previously reported. These deaths happened in November, December and early January. 
The total number of COVID-19 related deaths in the state now stands at 6,461. 
The state also reports hospitalizations and hospital bed capacity, but it is on a three-day delay. There are 2,397 total hospitalizations in the state with 34% remaining total hospital bed capacity. 
In the last seven days there have been 12,149 positive cases of the virus. The single-day case average now stands at 1,736. 
As of Nov. 19, DHSS has moved to report only the CDC-method positivity rate. As of mid-January, over 3.9 million Missourians have already been tested by PCR at least once. As a result, if they test negatively again, they will not be counted in the latest 7-day state-method positivity rate.
The CDC's method has a 12.4% positivity rate. 
The World Health Organization (WHO) recommends positivity rates in testing should remain at 5% or lower for at least 14 days.
9:15 a.m.: Callaway County offers survey for COVID-19 vaccine 
Callaway County is using a survey to determine how to contact individuals when it is their turn to receive the COVID-19 vaccine. 
The Missouri Department of Health and Senior Services, the CDC and the Callaway County Health Department are providing the vaccines based on each phase of distribution. The survey is how the health department will contact residents during the coming phases. 
Residents are required to fill out the survey to receive the vaccine. The health department will not be administering vaccines to those under 18 years old. 
The survey can be found here.