FULTON - Mike West has won Fulton City Council's Ward 1 and Lauren E.H. Nelson has won Ward 4, while Jacqueline "Jackie" Pritchett and Leah Williamson Baker are keeping their seats on the Fulton School Board.
West had nearly 54% of the Ward 1 vote, while Nelson had nearly 65% of the Ward 4 vote. 
City council members serve a two-year term. 
Ward 1 candidates included Valerie Sebacher and West. Sebacher was the incumbent and currently serves as Fulton Housing Authority's executive director. West is a former City Council member. 
Ward 4 candidates included Nelson and incumbent Rick Shiverdecker. Shiverdecker was first elected in 2011 and served five terms on council. 
Wards 2 and 3 seats were also open, but only one candidate ran in each, with an option of writing in a candidate. Ward 2 candidate Jeffrey Stone won nearly 98.5% of the votes, while Ward 3 candidate Alan Combs had 100% of the votes.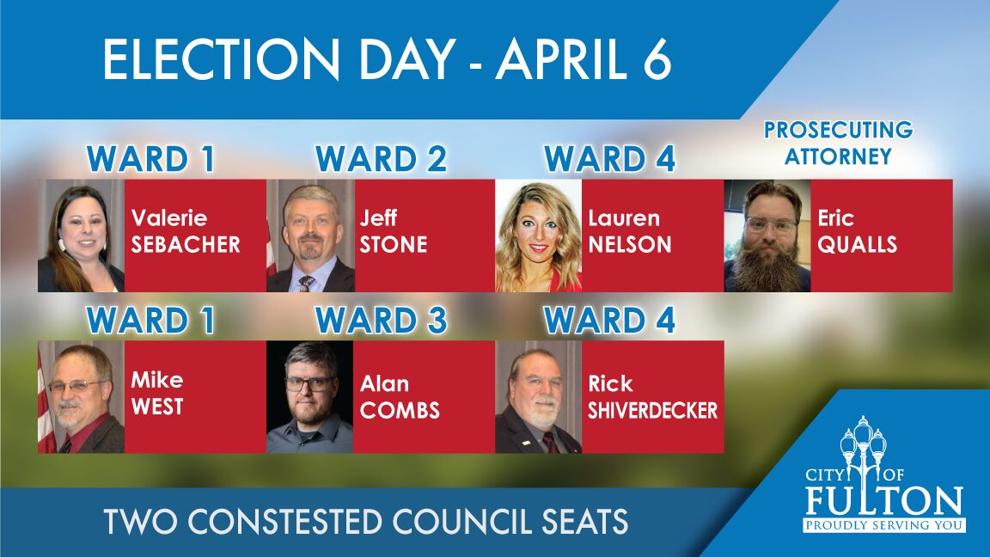 Fulton residents also had a chance to elect two new school board members. Current board members Jacqueline "Jackie" Pritchett took nearly 42% of the vote and Leah Williamson Baker had nearly 31% of the vote.
Tyler Steffens also ran. 
Board members serve a term for three years. 
For Callaway County's final election results, click here.