JEFFERSON CITY-- Governor Michael L. Parson was sworn in full-term as the 57th Governor of the State of Missouri at the 2021 Bicentennial Inauguration Monday at noon at the State Capitol.
@mikeparson is the 57th Governor of the State of Missouri. He has now been sworn in. @KOMUnews @HallReports pic.twitter.com/X2h0YeK3hX

— Marina Silva (@MARINASILVATV) January 11, 2021
Lieutenant Governor Mike Kehoe, State Treasurer Scott Fitzpatrick, Secretary of State John R. Ashcroft and Attorney General Eric Schmitt also swore in during Monday's ceremony.
@LtGovMikeKehoe has been sworn in. @KOMUnews @HallReports pic.twitter.com/tMw26BYcnx

— Marina Silva (@MARINASILVATV) January 11, 2021
Gov. Parson was sworn in by Judge Sarah A. Castle. Castle was appointed by Gov. Parson as Circuit Judge for the 16th Judicial Circuit on Oct. 20, 2020. At the time of her appointment, she was serving as Associate Circuit Judge of Division 27. She is the only judge to be appointed twice by Gov. Parson.
The Bible used in the swearing in was a gift given to him by First Lady Teresa Parson. 
Gov. Parson's son-in-law and granddaughter, Dr. Jonathan House and Alicia House, performed the National Anthem. Musical selections were performed by the 135th Missouri Army National Guard Band the Missouri State University Chorale. The Pledge of Allegiance was led by former Jobs for America's Graduate student and current Missouri S&T student John Sanders.
The ceremony concluded with a special salute to Missouri, signifying its entry as the 24th state in the United States 200 years ago.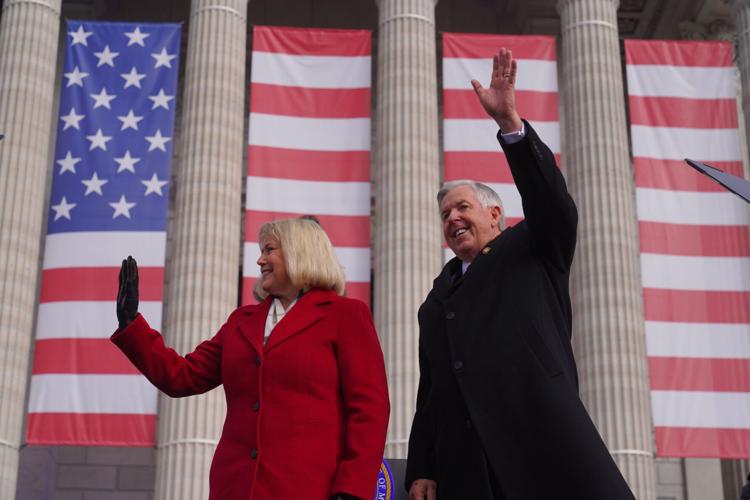 Gov. Parson's office expected nearly 2,000 guests in attendance.
At his press conference that followed, the governor was adamant about sticking to questions about the bicentennial and his inauguration. But when KOMU 8 reporters asked about the state's plans to balance the budget with COVID-19 and Medicaid expansion, he admitted it would be a challenge.
"I think the real challenge is probably not going to be so much this year," Gov. Parson said. "We are going to have to be careful about that because I think the way revenues were and the way the tax structure was, right now, it looks like you have money. The economy is doing better in our state than by far most, but I think you really have to look at 2 years, 3 years down the road to really know what the effect of COVID-19 is going to be."
The governor wasn't able to provide much detail as to the state's plans because he's not sure what federal assistance Missouri might receive.
With Medicaid expansion, he said his team will have to figure out how to save through the cost side of it or how to change the program in order to save enough money to pay for it.
According to the Governor's office, state and local health officials were consulted for guidance to protect attendees, participants and staff. All inauguration guests went through a health and security screening prior to entry. 
"Inaugural events will be socially distanced, masks will be available and encouraged, and hand sanitizer will be provided. Guests were highly encouraged to RSVP in advance of the event in order to ensure that seating can be modified to support social distancing standards," a statement said.