COLUMBIA - Several groups spread out across MU's campus Tuesday on National Voter Registration Day to register as many voters as possible before the Oct. 12 deadline. 
Some groups are using unique methods to entice people to sign up. The Associated Students of the University of Missouri (ASUM), a non-partisan political organization on MU's campus, set up on the Francis Quadrangle with four puppies.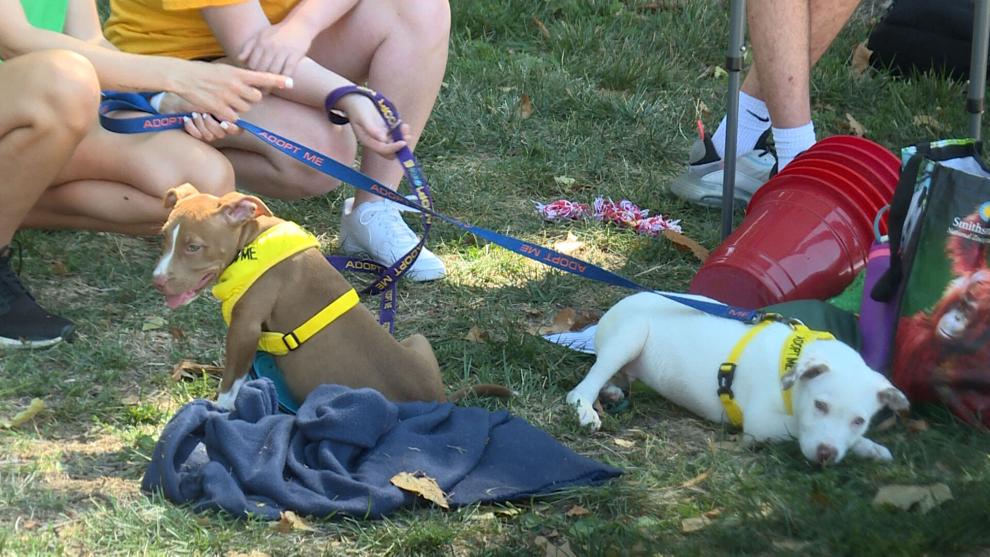 People who registered to vote got to pet one of the puppies, and ASUM's director of programming Lauren Bayne said the puppies were a huge draw.
"We've had really great engagement," Bayne said. "This is definitely a better turnout than I've had in years previous. So it's safe to say the puppies are working."
ASUM also had booths outside Memorial Union and the Student Center, which were handing out free cacti and cookies.
Deborah Finley, the treasurer for the Boone County Democrats, and several other volunteers registered voters at Speakers Circle. She said early voter registration is crucial.
"The key here," Finley explained, "is that if you are registered to vote, you can vote."
New voting law under House bill 1878 went into effect on Aug. 28. This changes how absentee voting works, and it also requires government-issued photo ID to vote. 
This means that out-of-state driver's licenses, bank notes, utility bills, and other formerly accepted forms of ID are not longer valid. 
Additionally, absentee voting works a bit different. In the past, absentee voting required an excuse, such as a sickness or injury. Now, absentee voting, from two weeks up until Election Day on Nov. 8, will no longer require an excuse, making it much easier.
Finley said the number of changes have made voter registration more confusing.
"There have been so many changes that we can't keep up with it or the average voter can't keep up with it," Finley said. 
Voters without an accepted ID will need to vote with a blue provisional ballot, which will be counted if you come back to your polling place on Election Day with your ID or if your signature matches the signature on your voter registration record, according to the Boone County Clerk's website. 
However, Brianna Lennon, the Boone County clerk, is concerned that with more voters needing to use a provisional ballot, election results could be delayed. 
"The more blue provisional ballots that we have, the more outstanding election results we'll have on election night," Lennon said. "Those blue provisional ballots will not be able to be processed and counted on election night."
Lennon is also concerned that confusion will stop some voters from showing up.
"The more that we introduce confusion into the voting process, the less likely it is for voters to come out and vote," Lennon said. 
More information on registration and voting can be found on the clerk's website.