Two weeks after Christmas and a week after New Year's Day, hospital staff across Mid-Missouri are bracing for a surge in new COVID-19 cases and hospitalizations.
Central Missouri's COVID-19 data showed increases in cases following both Halloween and Thanksgiving, the former leading to some of the highest peaks in case numbers across the state.
"We had a steady rise probably about ten days after Halloween where we continued to see that rise," said MU Health Care Chief Nursing Officer Mary Beck. "It didn't get quite as large after Thanksgiving but there was still a significant increase."
Increasing cases not only affect hospital capacity, but also health staff such as nurses, as hospitals are forced to allocate their resources across all of their beds.
As of Jan. 6, 33% of inpatient bed capacity and 36% of ICU bed capacity remain available.
In a statement released on Twitter Thursday morning, President Donald Trump recognized the impending presidential transition on Jan. 20, Inauguration Day.
"Even though I totally disagree with the outcome of the election, and the facts bear me out, nevertheless there will be an orderly transition on January 20," Trump said in a statement after Congress certified his loss on Wednesday night. "I have always said we would continue our fight to ensure that only legal votes were counted. While this represents the end of the greatest first term in presidential history, it's only the beginning of our fight to Make America Great Again."
The statement was released by White House Deputy Chief of Staff Dan Scavino, who is also the Director of Social Media, after Twitter temporarily suspended Trump's account on Wednesday.
Trump is yet to congratulate President-elect Joe Biden on his victory. 
Later, he posted a video to his own Twitter account on Thursday night, condemning Wednesday's "heinous attack" on the U.S. Capitol while recognizing the disappointment of his voters.
"To the citizens of our country, serving as your president has been the honor of my lifetime," said Trump. "And to all of my wonderful supporters, I know you are disappointed but I also want you to know, that our incredible journey is only just beginning."
Education Secretary Betsy DeVos, resigned Thursday night due to President Donald Trump's response to Wednesday's deadly storming of the U.S. Capitol.
DeVos joins former Transportation Secretary Elaine Chao as the two members of Trump's cabinet who elected to leave their posts.
Chao, the wife of Senate Majority Leader Mitch McConnell, turned in her resignation letter Thursday morning, effective Monday.
Various other members of the Trump administration have also resigned in Wednesday's aftermath, including Stephanie Grisham, former Chief of Staff of First Lady Melania Trump.
Sen. Josh Hawley will need to find a new publisher for his upcoming book after publishing company Simon and Schuster announced it would be cancelling its planned release.
"The Tyranny of Big Tech" was originally slated to hit the shelves this June, but the company released a statement condemning his role in Wednesday's deadly riot at the U.S. Capitol.
"As a publisher it will always be our mission to amplify a variety of voices and viewpoints: at the same time we take seriously our larger public responsibility as citizens, and cannot support Senator Hawley after his role in what became a dangerous threat to our democracy and freedom," Simon & Schuster said in the statement.
Hawley responded on Twitter, calling the decision "a direct assault on the First Amendment."
The City of Columbia's Solid Waste Utility leaders held a press briefing to inform the public on changes to its curbside trash collection process.
All waste must be put in new, city-issued bags starting Feb. 1. These bags feature the city logo, and vouchers will be mailed to residential customers on Monday. The bags will be available for pickup at Gerbes, Hy-Vee, Menards, Moser's, Schnucks and Columbia City Hall, and additional bags are available for purchase at $2 per bag.
The monthly fee for curbside pickup is $17.37, and bags must weigh less than 50 pounds. The city will not be providing curbside recycling pickup at this time.
Diggit Graphics screen printer Matthew Postgate arrived at the building, located on West Broadway, Thursday morning to shattered windows. Behind them were Black Lives Matter apparel.
This is not the first time the company has been received backlash for the display, as Postgate cited previous anonymous calls that criticized it. He noted that the timing of the vandalism was "suspicious" in light of the besiege of the U.S. Capitol on Wednesday.
Police are currently investigating the report and reviewing security footage.
Today's First Alert Weather Forecast
Temperatures will start in the upper 20s for our Friday with wind chills in the lower 20s to upper 10s in a few locations. Skies will be cloudy as well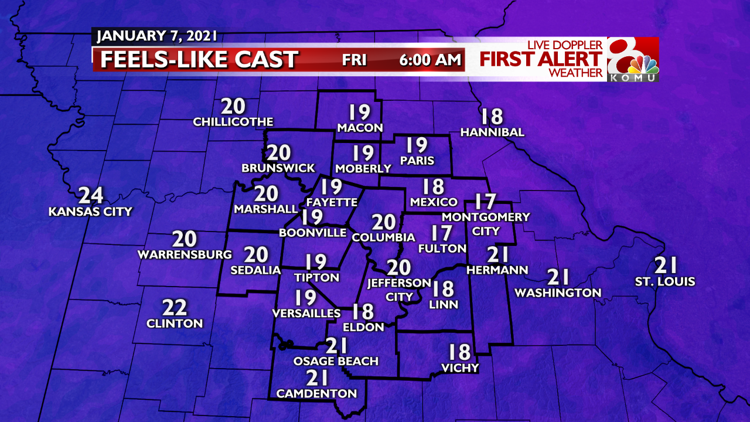 Clouds will remain persistent across central Missouri through the day and there will be just enough moisture that we could see a few flurries develop. These will not accumulate or cause issues, but don't be caught off guard if you see a flake or two fly through the air. Highs will reach the middle 30s. Wind chills highs will climb into the middle to upper 30s.