COLUMBIA – Two out of five Columbia residents struggle to get reliable transportation, according to Love Columbia. But on Thursday, that changed for one woman.
Tarita Williams received a new car Thursday, thanks to Columbia Credit Union, Love Columbia and other participating donors.
After having a high-risk pregnancy and giving birth to her son in November, Williams almost didn't make it. She said she was under a lot of stress and was afraid she wouldn't be able to get back to work.
Now with the new vehicle, Williams said she will be able to get her kids to and from school and be able to work on starting up her small business.
"It gives me an opportunity to keep income flowing, to take care of them, you know, to make sure they get to things that are important like doctors' appointments," Williams said.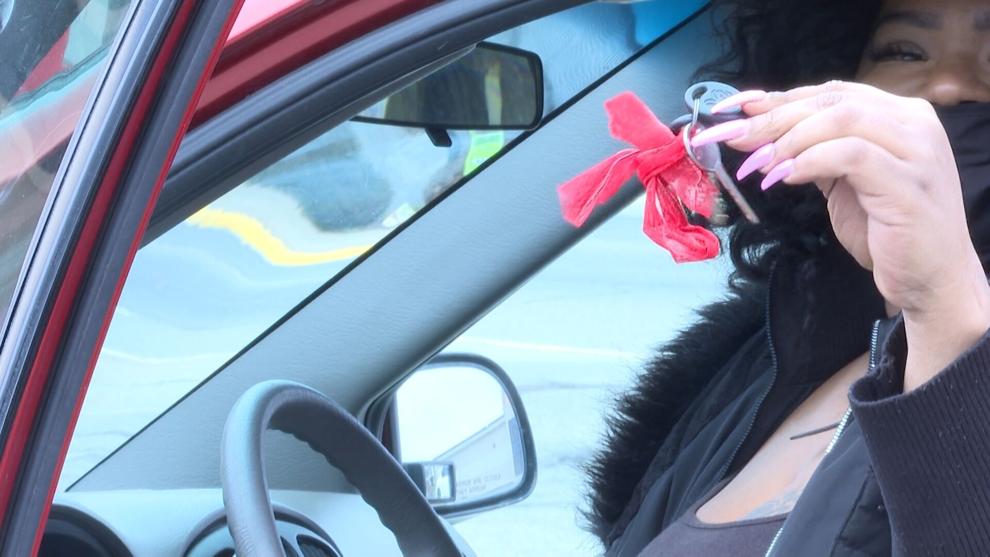 The initiative started as the credit union's "Ten Turkeys and a Car" campaign. Customers were given the option to donate at the window and an online donation site was launched. Close to $6,000 later, they were able to give away not one, but two cars. The first car was given on Christmas Eve in 2020.
Love Columbia and Columbia Credit Union partnered with other businesses, like TIG Advisers, Joe Machens Automotive, Big O Tires, Sam's Club, and Dive Bar, along with over 250 individual donations. TIG Advisors donated a year's worth of insurance for both of the cars. 
Mike DeSantis, Marketing Director at Columbia Credit Union, said they relied on Love Columbia to choose a recipient for the car.
"Their job was to find people who had the most need. That way we could concentrate on raising money, they could concentrate on finding the best people for it," he said.
DeSantis said they trusted Love Columbia because they have been in the community for about 13 years. Love Columbia was formerly named Love Inc.
"They get to know people on a relational level. So, they knew people and they knew people that had driver's license and they knew people that had cars that were okay and knew people that didn't," DeSantis said.
Aaron Harris, Operations Director at Love Columbia, said that transportation is huge to supporting oneself and especially a family.
"We know from experience that often times, lack of transportation is the first domino to fall, which gets people into a path of struggling and unable to get work and unable to pay their bills.
Love Columbia accepts used car donations year round and has a long list of individuals that are in need of a vehicle.
Williams will now be able to use this transformative gift to support her family, and DeSantis said they want to go even bigger next year.
"Next year we want to make it larger because there's so much of a need," he said. "We're very happy that truly we can help drive people out of poverty by giving them reliable transportation."