COLUMBIA -- A University of Missouri professor helped to develop a new character, Max, on the PBS Kids show "Daniel Tiger's Neighborhood."
Max has autism, and his character aims to capture a realistic portrayal of someone on the spectrum. 
According to a press release, 13-year-old Israel Thomas Bruce will voice the character. Thomas Bruce was diagnosed with autism when he was four years old.  
Dr. Wes Dotson, an associate professor in MU's Special Education Department in the College of Education, spent two years helping to develop the character.  
"Max is a young man who is brilliant," Dotson said. "He's fascinated by musical sounds, but he's also easily overwhelmed by loud and bright environments. And so, too many people around and too much noise can be difficult for Max."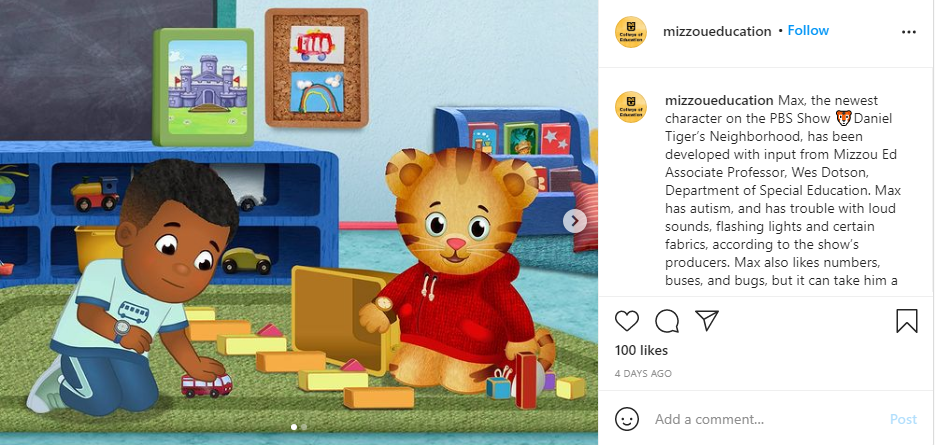 Mizzou Education posted on Instagram about the new character.
"Max also likes numbers, buses, and bugs, but it can take him a while to warm up to new friends, and he sometimes prefers to play on his own," the post read.
Dotson said these character traits are modeled after children on the autism spectrum, but can be different for everyone. 
"One of the things that makes it challenging to represent autism on the screen is that it's a spectrum," Dotson said. "So any one character is what we would call a snapshot. You're just trying to represent what it may look like."
Dotson said he hopes Max will help kids with autism, who might not have previously seen this kind of representation. 
"Part of the journey of the show and the character on the show, especially in the early episodes is how the other kids learn to interact with Max, and how to play with him as a friend," Dotson said. "And then how Max learns to be comfortable with them and join their group as well."
Jordan Shikles, along with his wife Emily, founded the SuperFinn Autism Foundation. Their son, Finn, was diagnosed with autism when he was 18 months old. Jordan Shikles said Max is an important character for other kids to see.
"Daniel the Tiger and the Thompson Center, and all the shows and the people that are a part of that process are making it a brighter future for Finn, and anyone with a disability," Shikles said. 
Max appeared in two episodes in the week of April 5. A press release said more episodes including Max are in the works.