COLUMBIA -- MU Extension and the University of Missouri Southwest Research Center are sponsoring a March webinar series which helps farmers cope with mental health and stress.
The series will include four webinars, beginning March 2 and ending March 23. The first webinar will address how farmers can remain resilient when dealing with grief and hardships.
Over the last year, farmers have had to deal with weather-related stressors, free market challenges and being outsold by imported meat companies.
Dairy specialist Reagan Bluel said farmers are some of the most resilient people she knows, but also knows they need a space for support.
"This series is not only for farmers, but also those who work with farmers to understand their stressors," Bluel said. "Sessions like these can help us understand how to better navigate conversations with farmers when it comes to addressing mental health and farm life."
Different sectors of the farming industry experienced 2020 very differently. While grain farmers like Peggy Smart of Smart Brothers Farm Inc. said her crop yield and profit margins were high, other farmers across Missouri couldn't say the same.
According to Tim Gibbons, Communications Director of Missouri Rural Crisis Center, cattle farmers had to cope with being driven out of the domestic meat supplying conversation.
"Through the multinational meat packers importing beef into our country and undercutting U.S. cattle producers, the price paid to U.S. cattle producers has been driving down," Gibbons said.
Gibbons said this outsourcing problem goes into the larger issue of U.S. meat regulation. He said loopholes in country of origin labeling regulations hurt U.S. cattle farmers and allow foreign suppliers to infiltrate the market.
"There was a big bottleneck and it really affected cattle producers, both in our state and our country," Gibbons said. "One thing that we do here at Missouri rural crisis center is work to ensure that Missouri cattle producers, U.S. cattle producers, independent producers, have access to an open fair and competitive marketplace. A marketplace that pays farmers a good price for the product that they're producing."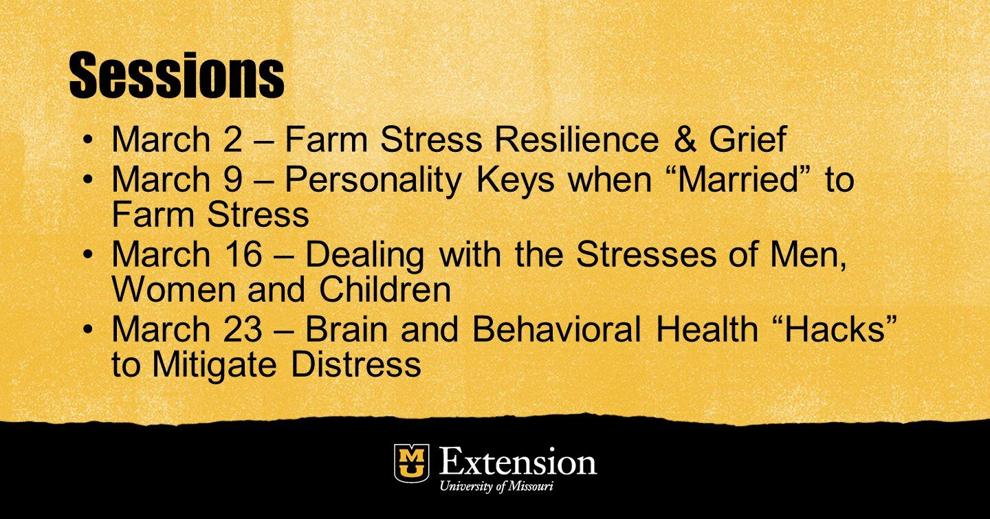 MU Extension's webinar series will address stressors in the production market for farmers. Bluel said the series comes at a strategic time in the farming calendar, at the end of the winter months and before the spring season takes shape. 
The webinar will begin at 7:30 p.m. and registration is open to not only Missourians, but neighboring states as well. The series will be co-hosted by institutions in Iowa, Illinois, Minnesota, Mississippi, Nebraska, South Dakota, Texas, Vermont, West Virginia and Wisconsin.