COLUMBIA - Traffic backups near Mill Creek Elementary School have been solved after summer school began Monday. 
"Just even in one day there's been a huge improvement," Russell Boulevard Elementary parent Jamie Blake said. "I know that educators are working really hard to try to get people out there very quick. They're very conscious of what's going on and I'm really grateful that they're working so hard for us." 
Two roundabouts were constructed on Nifong Boulevard at Sinclair Street and Old Mill Creek last year.
According to the city of Columbia, the roundabouts were constructed to improve safety, reduce queue lengths and decrease travel times. 
Due to construction at Russell Boulevard Elementary School, students were moved to Mill Creek Elementary School for the summer session. 
Summer school coordinator Bonnie Conley said the two schools are a "pretty good size" and the district knew that going into the summer session. 
The administrators for summer school sent a letter out to parents Monday night addressing the arrival and dismal process. 
"When I talked to them in the afternoon they were already coming up with solutions to make that much more flowing and less painful," Conley said. 
The email stated on Tuesday, all students would be coming home with car placards. 
The placards will have the child's name, grade level and school to help with parent drop off and pick up. 
The email also included a review of the arrival and dismissal procedures, as well as pointers and a map.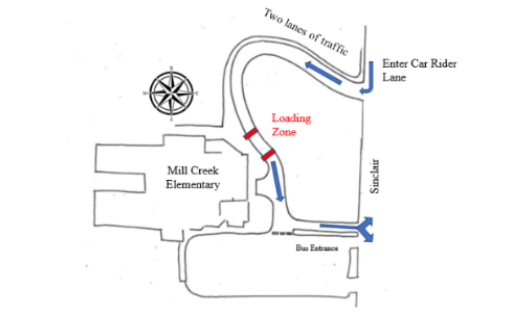 One Mill Creek parent experienced the traffic issues first hand Monday afternoon.
"I waited in traffic for an hour and my car overheated. It died in the pickup line, so that was my experience," Andrea Seppo said.
Seppo and other parents found an alternative strategy of parking across the street and walking over to the school to pick up their children.