COLUMBIA - Columbia Mayor Brian Treece announced that no new health order will be put in place after the current one expires on May 12.
"Now is the right time, and I know our community will continue to do the right thing," Treece said. "This does not mean the pandemic is over."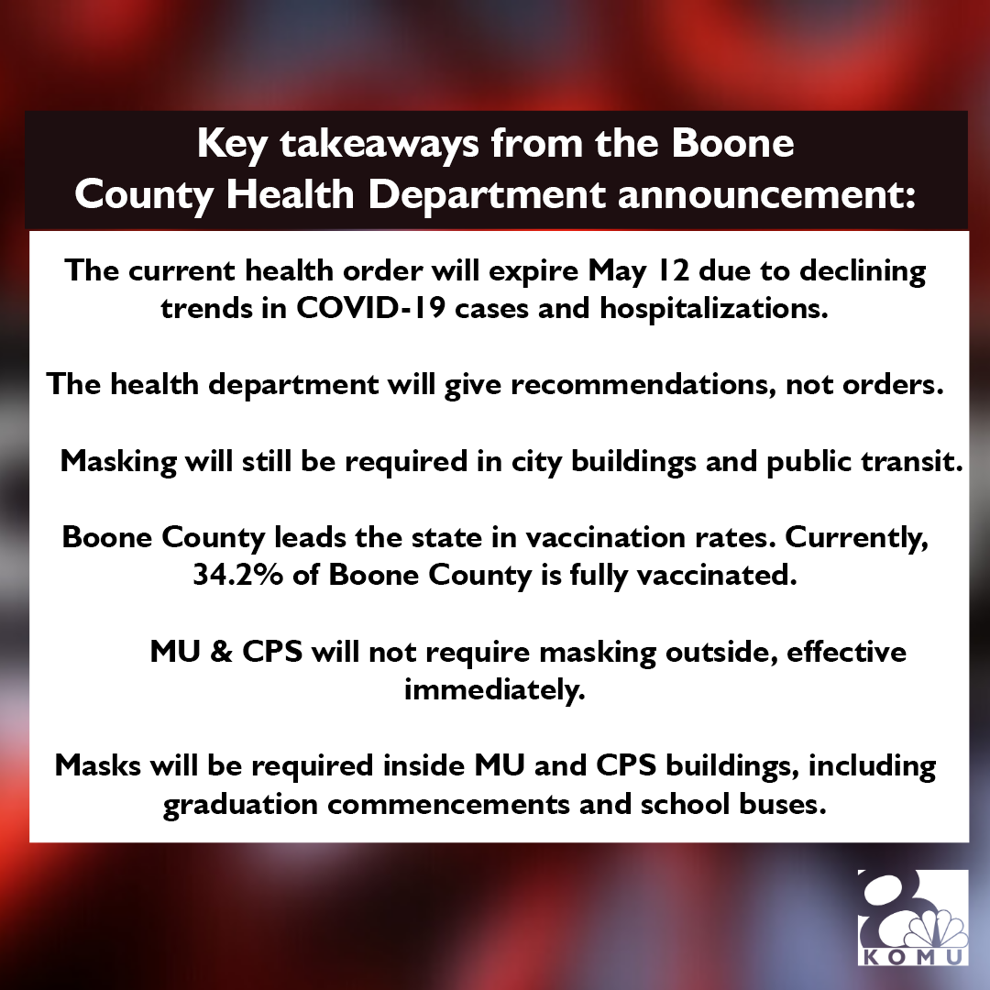 Masks will still be required in city buildings. Individual businesses and schools have the ability to require masks. Mayor Treece said "he hope their policies don't change until the all clear from the federal government and conditions across the country."
Treece also said it "levels the playing field" for businesses, because some businesses fear they would lose customers if all businesses do not require masks. 
The lifting of restrictions comes before the second weekend of 2021 MU graduations. Mayor Treece said the city follows the data and science, and not what "happens on the ground."
Treece said restrictions could be put back in place if cases trend upward again.
Columbia/Boone County Department of Health and Human Services Director Stephanie Browning cited "positive trends" among many COVID-19 metrics including a declining 14-day average caseload, low hospitalizations and the amount of Boone County residents receiving the vaccine.
44.3% of Boone County residents have initiated vaccination, the highest vaccination rate of any county in the state.
73.2% of Boone County residents 65+ are fully vaccinated.
"The majority of our most vulnerable are protected," Browning said.
Only 18.9% of the 18-24 age group is fully vaccinated. This population represents 20% of the Boone County population and the highest case rate, Browning said.
The health department will shift from giving COVID-19 recommendations, rather than protocols.
"Wearing masks, social distancing, and avoiding mass gatherings are still the best ways to keep our loved ones safe," Browning said. "We'll keep working on education and vaccination."
A student health representative from MU also said the university will end the outdoor mask mandate starting Monday. The university still encourages to use a face covering if you are within 6 feet of someone you do not live with and to avoid large gatherings where social distancing is not possible. 
Masks will be required indoors on campus, including graduation ceremonies.
The university plans to operate at full capacity for the fall semester.
This story is breaking and will be updated.