COLUMBIA - After challenging years in their home country, sisters Fethawit and Melat Tekea came to Columbia from Eritrea in 2016 where virtual learning and integrating into American culture created new problems. The Tekea family fled the East African country because of the highly militarized society and oppressive government.
City of Refuge is a non-profit organization committed to providing foundational support for refugee students in Columbia Public Schools (CPS) and adjusting to meet each individual's needs. Over half of the refugees assisted are youth, making education a crucial necessity.
Due to the pandemic, CPS schools moved online March 18, 2020 and restricted students ability to learn English. The classroom serves as a better environment for them to practice, but they don't return to in-person learning until April 5. The non-profit structures its educational program around English learning as a second language.
"They try their best to help me understand but when I'm online it doesn't make me understand," Melat said.
Candace Hulsizer is the school liaison for City of Refuge and works as an advocate for the families. She connects the students, teachers, and parents to meet specific needs. Within the school system, she sees the educational demands directly.
"School is where they learn what social norms are, and English is around them all the time and they are kind of forced to practice it," Hulsizer said.
However, online learning lessened socialization and decreased the use of English around these students. According to the UN Refugee Agency, learners may need to hear a new word 40 times or more before using it on their own.
City of Refuge remained open during the pandemic to continue to deliver these learning services. Leah Glenn, the program coordinator, manages and caters resources to students. Glenn oversees Homework Helper nights and upholds the organization's adaptability.
"If someone expresses a need or a desire to learn something, I will seek out volunteers that have that specific skill set," Glenn said. "Or it may be the opposite, where a volunteer reaches out to me."
In-person Homework Helper nights by City of Refuge are held to create a structured routine and reinforce life-skills. The study sessions are every Wednesday from 6-8 p.m. at the organization and on Thursday at Midway Baptist Church. Volunteer tutors, interpreters, coordinators and teachers work cohesively to dismantle educational barriers and help refugee students learn.
Abbey Hall, a tutor, comes weekly to teach various subjects at the Homework Helper nights. Her role helps establish a routine and provide assistance specific to each student.
"It is very important because they get to come here and they get to actually have one-on-one time with someone who is teaching just for them," Hall said.
Fethawit Tekea is a seventh grader originally from Eritrea. She attends the Homework Helper nights with her sister, Melat, who is in the fourth grade. As of Jan. 19, CPS returned to a hybrid learning model in which elementary students return for four days and middle schoolers attend two days. However, completing school virtually was difficult for the siblings and made Fethawit feel disconnected from her teacher.
"It is better when you are in person because you get to face the teacher and you are able to ask her more questions," Fethawit said.
The change of setting was not the only challenge faced by the students. Melat Tekea struggled to make friends and experienced bullying within the schools.
"I got bullied three or two times," Melat said. When asked how it made her feel, she responded, "Not wanting to come to school anymore".
In light of recent occurrences similar to Melat's experience, the organization is determining how to combat bullying within the schools. To promote a positive learning environment, students need to feel safe and have inclusive spaces.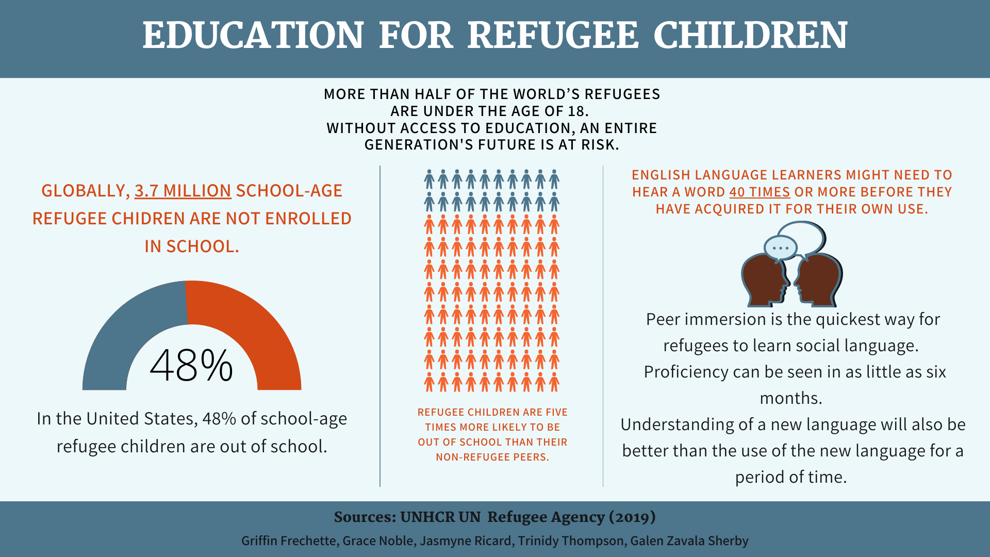 Navigating the school system is a difficult task for refugee students due to the culture shock of mid-Missouri and the language barrier. City of Refuge recognizes the need for students' emotional well-being and has a counselor specializing in post-traumatic stress disorder to work through the trauma of leaving their home country.
The counselor tackles trauma creatively by including artistic ways for students to work through their experiences. Scrapbooking, art and photos are all used to help students remember the happy moments of their life. However, making Missouri feel like home can be difficult.
"People like to say that kids are resilient, and they are. But, that doesn't mean they don't need attention to the places that have been deeply wounded," Hulsizer said.
The future of the organization is focused on implementing improved resources for the students and fostering inclusive environments in the schools. The students' well-being both academically and emotionally is at the City of Refuge's center of attention to continue establishing an educational experience.
"By them coming and picking us up, reading with me, and doing homework" are all ways Melat listed when asked how City of Refuge helps her learn.
City of Refuge strives to provide opportunities for students to succeed both in and out of the classroom. They give refugee students like Melat and Fethawit the additional aid they will need to succeed in their new country.