JEFFERSON CITY - Central Missouri Community Action (CMCA) partnered with Catholic Charities of Central and Northern Missouri, Common Ground, The Missouri Regional Library and the Salvation Army to host two "Eviction Event" sessions for Cole County residents.
The second session happened Thursday afternoon.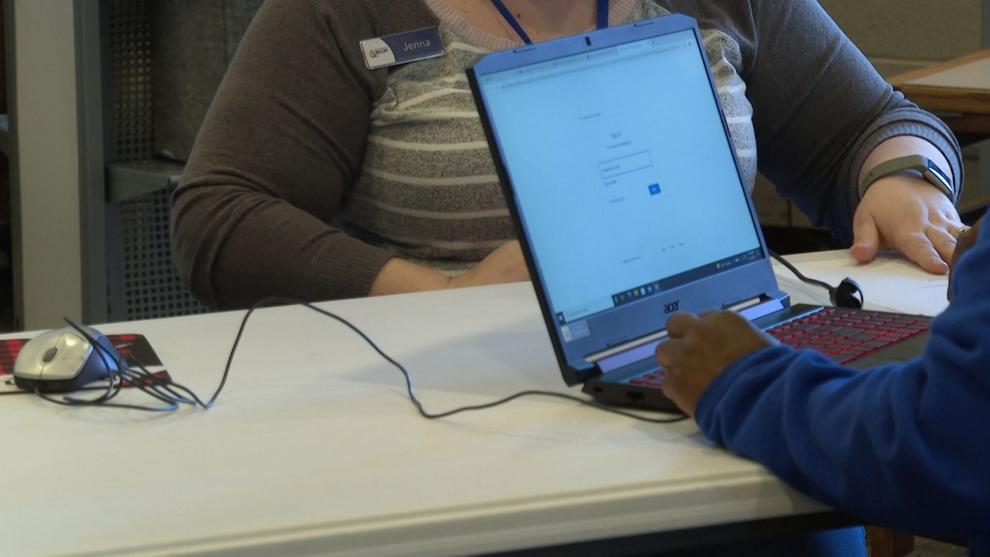 In these sessions, residents of Cole County received assistance filling out the State Assistance for Housing Relief (SAFHR) application online.
Stefani Thompson, CMCA community organizer, said the completion of the SAFHR application helps people who are being evicted for back rent.
"You can apply for back rent assistance and you can apply for three months forward," she said. "You can also receive assistance with utilities once you've completed that."
Thompson called Thursday's session a "one-stop-shop" where Cole County residents could receive multiple resources in regard to eviction all at once. 
Kate Amick, a benevolence coordinator at Common Ground, said most people come in for help with the SAFHR application due to it being lengthy and complicated.
"It needs to be completed online and a lot of individuals do not have access to computers or they might not be computer savvy," Amick said.
Amick said with assistance from the volunteers, individuals can apply for up to 12 months of past rent or utilities with it being a 12 month total combined. For instance, if someone is 3 months behind on their rent but they are also two months behind on their electric bill, they can apply for both, but it counts as five months.
Individuals can also apply for future rent or utility assistance but again, that is 3 months, Amick said.
"People coming in will need to bring a lot of personal information like their leases, bills, and bank statements showing why they are in this financial crisis," Amick said.
Amick said if everything in the SAFHR application is filled out correctly, it can be approved as early as 72 hours. Most applications take two to three weeks to get processed.
One woman in attendance who preferred to not be identified said sessions like these help her and her family greatly.
"I had my daughter a year ago and I have been struggling with her since I am in school too, so I have been trying to balance out going to school and taking care of her as a single mom," she said. "This event is really going to impact both of our lives so I can be a good mom to her."
The woman said the main reason she was at the help session was because she lost her job to COVID-19, then later found out she was pregnant in the midst of the pandemic.
Both Thompson and Amick said the COVID-19 pandemic is one of the main reasons so many are coming in for eviction assistance, as well as past impact from the Jefferson City tornado in 2019.
"We're happy to be here helping individuals getting the assistance that they need and hopefully helping families move forward during this pandemic," Amick said.
Both organizers said they have helped people in all kinds of difficult situations, and they are grateful to help others get off their feet during unprecedented times.
For those who could not attend the sessions, contact CMCA community organizer Stefani Thompson at Stefani@cmca.us.