HERMANN - The City of Hermann held a vigil Friday night honoring two police officers.
Detective Sgt. Mason Griffith was shot and killed Sunday night at a Casey's convenience store after being called to investigate an "irate person." Another on-duty officer, Adam Sullentrup, was also shot. He was reported to be in critical condition as of Monday, but Hermann Police Chief Marlon Walker said Sullentrup is expected to recover from his injuries.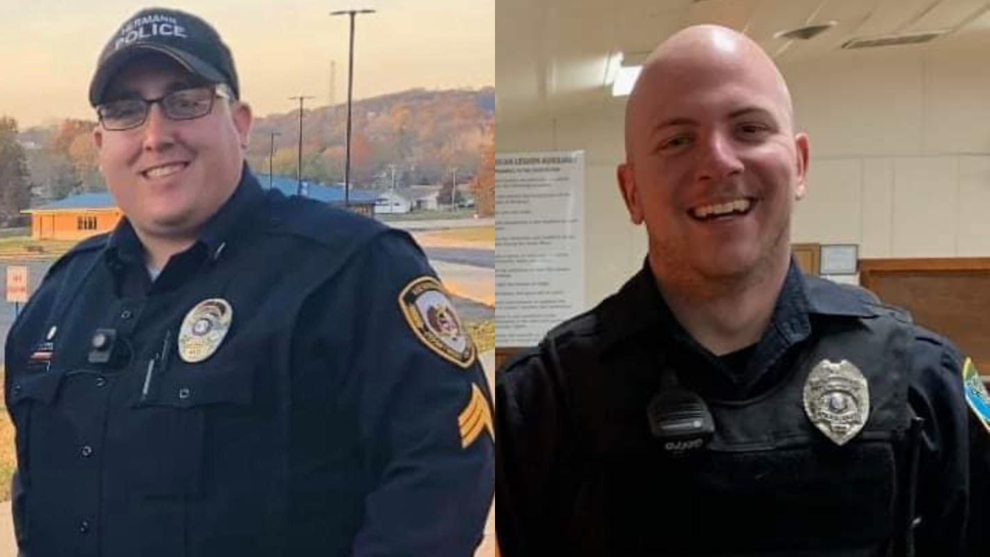 Hundreds of family and friends attended the vigil, wearing black, blue or white. Religious leaders, including Pastors Dave Thomas and Billy Brison, and community officials, including Hermann Mayor Bruce Cox and Chief Walker, spoke highly of Griffith and offered support and love to the Griffith family.
"Mason was one of the top-notch [officers] I've ever encountered," Cox said. "Here's a guy that would do anything for anybody, who loved what he did, was passionate about the community here and in Rosebud. And he was just a stand-up guy, and I'm just proud and privileged to have worked with him."
Griffith graduated from Missouri's police academy in 2010 and worked in Rosebud with the Gerald Police Department. He also worked within the Gasconade Sheriff's Office before joining the Hermann Police Department
"This could be a time to be angry and where evil could win, but it's not," Walker said. "We're not going to let evil win... the men and women who put this uniform on every day know this. We serve with pride, we know the risk we take every day. Sgt. Griffith was top-notch... what an officer should be. He gave his life for this career, not just the city of Hermann, but the entire county of Gasconade."
"He was a great officer for this community. He was a great friend to me outside of work, and he will be truly missed... Mason was a great guy, everything about him, from his work ethic, his love for his family, his love for this community, his love for strange foods that I don't understand. That was Mason. But he was always there when I needed him."
Walker also commended Officer Sullentrup for his work with the Hermann Police Department.
"Adam's only been with this department for a short time, but in the short time he's been with us, he's shown what a great officer can be. His spirit, everything about him, is amazing. Just his love for the kids in this community and the schools, it showed every day when he worked. And I thank him and pray for his speedy recovery, and I know he will recover."
Walker said he's spent 20 years in Hermann and never expected a call like the one he received Sunday night. He said he hopes the community will love and respect each other during the aftermath of this tragedy, and that Hermann and Gasconade County "will be better for it."
Cox and Walker both thanked first responders and Casey's employees who first witnessed the shooting and helped law enforcement. Master of Ceremonies Muriel Brison also led a standing ovation for all emergency and law enforcement authorities in attendance.
Community member Chester Lansford works at The Piano Bar, a local bar. He shared how hard this week has been for the town. 
"Nothing like that ever happens around here. It shocked the whole community," Lansford said.
He said the community put up blue, white and black ribbons around the town to commemorate both of the officers. 
Lansford said the shooting of the officers was unexpected. 
"You see it on the news, you know it's around, but it just don't happen around here," he said.
"Let our community be strong and resilient in the face of evil, and come together to love and support one another and the Griffith and Sullentrup families, not just today, but in the coming days, months and years" Cox said. "Our community will never forget the sacrifices both made to protect."
This Sunday, a public visitation funeral service and procession is scheduled to take place for Griffith. Those details can be found here.