COLUMBIA -- Columbia is preparing to host thousands of people for the first of three different graduation weekends for the University of Missouri.
Mizzou Arena and the Hearnes Center will host the ceremonies for the Class of 2020 this weekend, April 24-25. May and August graduates from the Class of 2021 will be celebrated over two different weekends in May. Columbia College will also host graduation at Mizzou Arena on Saturday, May 1.  
Graduation looks a little different as we welcome back #MIZ20 this weekend. Here's a sneak peek at some of the precautions being taken to offer safe in-person commencement ceremonies. #MizzouMade #TigersSupportTigers 💛🎓🖤Full safety considerations: https://t.co/Y7fMwJKw75 pic.twitter.com/ISq6PLgVNY

— Mizzou (@Mizzou) April 22, 2021
Each student can invite up to six guests to attend and each group of guests will be grouped in "pods" that are spread out to maintain social distancing. Everyone is also expected to wear face masks, according to MU's website.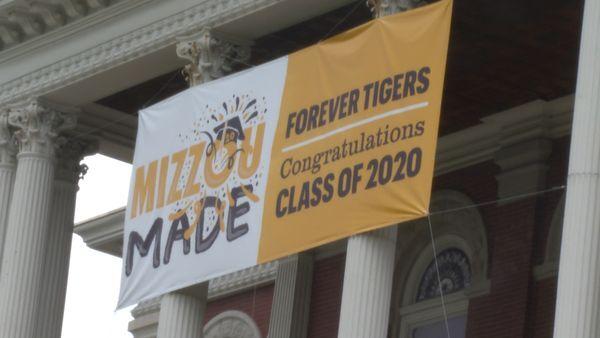 Christian Basi, a spokesperson for the University, said more than 1,500 graduates for the class of 2020 have RSVP'd for this weekend's ceremonies. Each graduate is allowed, but not required, to invite six guests to the ceremonies. 
"We're expecting 1,500 graduates for the 2020 weekend, so this weekend. For the 2021 events, we're expecting approximately 5,000 graduates to be celebrating their achievements," Basi said. "When you add up to each student being able to have up to six guests, you're looking at an additional 30,000 people that will be coming in and out."
Basi said he understands the impact that events like this have on the local economy. He said that's why it is so important for everyone to wear masks, maintain social distance, and get the vaccine -- so Columbia can get back to having more events like this more often.
He also said the University expects to be back to full capacity in the fall in everything including classes, sporting events, concerts, etc. 
"We do understand the impact of not having those ceremonies last year hand on the local economy," Basi said. "That's why we are trying to do everything we can to get things back to normal because we know how important it is that we are part of a much larger community system here."
He said Columbia residents should prepare for increased traffic and larger crowds this weekend, meaning more social distancing, as well. 
Munir Mohammad is the owner of Shortwave Coffee and said they have been downtown for more than seven years. He said they just opened a new location on the corner of Cherry and Ninth Street just over two months ago. 
"It's a good level of busy right now given like COVID and all its limitations, but it'll be nice to see an influx of people into downtown, like the parents and friends coming in," Mohammad said. 
He said graduation weekends have always been some of their busiest days. 
"Graduations have always been a busy weekend, and it's been busy throughout the whole day. So we missed out last year, and hopefully this year, it comes back," Mohammad said. 
He said he's glad the ceremonies are spread out over three different weekends.
"It's nice that it's over three weekends. So it's not super busy and it's not super packed, and people will feel comfortable and safe," Mohammad said. 
The deadline to RSVP for this weekend's ceremonies was April 22 at 5 p.m. All of the ceremonies will be live streamed if you cannot make it.