COLUMBIA- The Roof restaurant at The Broadway Hotel is known for their deck patio that overlooks downtown Columbia.
The restaurant set COVID-19 protocols, such as mandatory masks and the spacing out of tables. However, they also set up heated igloos on their patio to allow customers to dine outside, social-distance and enjoy the view.  
The Roof set up the heated igloos last winter, as they wanted to expand their outdoor business, as the winter months are usually their "slow season," general manager Jim Evans said.
"This year, the second season of having them, they've been very popular," Evans said.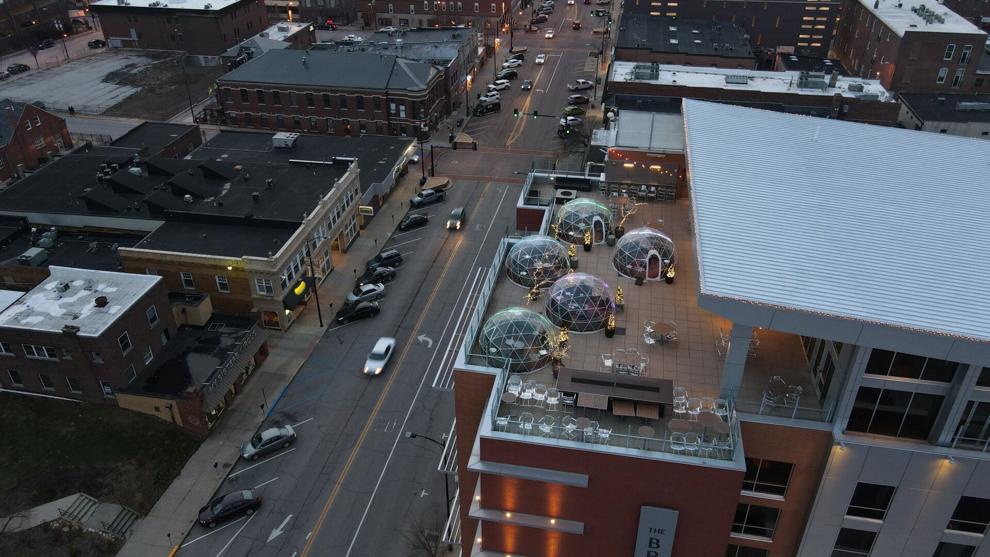 While The Roof has invested in these heated igloos, many local businesses are prioritizing carry-out orders or socially-distanced indoor dining. 
Flat Branch Pub & Brewing, a Columbia restaurant known for their craft beers and award-winning patio, received patio business until early December, but are now focusing on their indoor dining.  
General manager Paul Huesgen says that the restaurant has experimented with heated lamps and tents on their patio throughout the years, but they have not found a permanent plan for winter dining.  However, Huesgen says that even while their numbers are lower this year, this has not been a problem.  
"I think it would affect our restaurant sales if we didn't have such a big building. But not having a heated patio has not affected us to the extent that I thought it would," Huesgen said.  
While some restaurants in downtown Columbia offer heated patios, The Roof's igloos are representative of the ways in which restaurants are navigating outdoor dining during the pandemic and the cold winter months.  
Evans said this year, these igloos are in high-demand because of the amount of restaurant restrictions. He added they are very fortunate to have these igloos and that they have positively impacted their business amidst the pandemic.