COLUMBIA - Construction for Raising Cane's Chicken Fingers has begun in Columbia, and local residents cannot wait for the opening.
Construction began on the corner of Providence Road and Locust Street, just next to Eat Well. Raising Cane's is a national restaurant chain famous for its chicken fingers and its special Cane's Sauce. 
Who's ready to get their chicken on? Construction for Raising Cane's in Columbia has begun at the intersection of Providence Road and Locust Street. @KOMUnews pic.twitter.com/wZrrwdzL7s

— Blake Holland (@Blake_Holland10) April 21, 2021
The Columbia City Council voted 5-1 to allow the restaurant the conditional-use permit in January in order to build a drive-thru facility.
Since then, the restaurant is 16% complete, according to the city's Citizen Self-Service.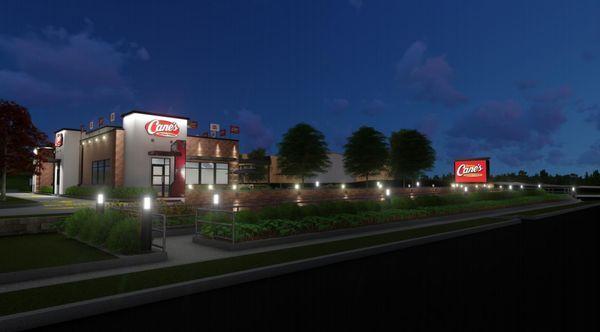 The location for the restaurant has residents thinking it will be busier than ever. Being closer to downtown, residents think the community will respond well with where it's located.
"Downtown Columbia has a lot of good places to eat," MU student Drew Naufowicc said. "They don't have so many fast food restaurants, so it's kind of gonna be a good place, like, people are gonna drive to actually go get it."
The installment of Raising Cane's brought some initial concern during its proposal in January. To pass the amendment proposed by Mayor Brian Treece, the restaurant will be required to have a sidewalk along Providence that is compliant with Americans with Disability Act standards.
The chicken joint will also be required to have a bike rack, a bike repair station and plenty of outdoor seating to accommodate the area's bicyclists.
Despite these accommodations, this hasn't stopped local residents from the highly anticipated opening.
"I discovered Cane's probably two years ago. I used to go to school in Arizona, and that was the first time I've ever had it," Naufowicc said. "But it was kind of like a revelation for me. Like, it really is one of my favorite fast-food places."
Construction is ongoing, but Raising Cane's plans to open up by the end of 2021.