COLUMBIA- The Columbia Public Schools Board of Education voted 5-2 Monday night for elementary and pre-k students to return in-person four days a week and a hybrid option for secondary students, beginning Jan. 19.
The hybrid option will split secondary students into two groups, based on last name. It will not break down completely equal, Superintendent Dr. Peter Stiepleman noted during the meeting.
Group one students will return in-person Mondays and Tuesdays, while group two students will return in-person on Thursdays and Fridays.
"Secondary students will have the opportunity to Zoom in on the days they are assigned online to participate in group projects and interact with peers and teachers," Dr. Steipleman said.
Wednesdays will continue to be a cleaning day for all students and staff.
According to the CPS reopening plan, the plan for in-person elementary students includes four, full days of in-person instruction. Adjustments can be made to class sizes based on health department guidelines and recommendations. 
Preschool and early childhood class sizes only will not exceed 12 students, and a waiting list will be maintained.
For middle and high school students who will use the hybrid program (if they chose in-person) includes two, full days of in-person instruction per group, which will be based on last names.
Board member Dr. Della Streaty-Wilhiot changed her opinion of wanting to continue online learning to wanting students to return to in-person, but she voted 'no' on the hybrid model that was introduced, and passed, Monday night. She stressed mental health as a reason for her change of opinion.
"Along the lines of depression and suicide at an all time high, can't go on without putting children in school," Dr. Wilhiot said. "I've seen our community caving in. I have seen the mental stress anguish, I know of some of the suicides. I know some of the kids rely on the school simply to feed them. I want to thank every one of you for supporting us. I definitely think the parents, merchants, and children for this community can not go on without putting our children in school. the community will almost go crazy."
Board member David Seamon also voted 'no' on the motion. He expressed he wanted everyone to get vaccinated, so they will not make this mistake again.
Kathy Steinhoff, a math teacher at Hickman High School, spoke during the public comment portion of the meeting.
"Although the vote tonight maybe is not the way many of our teachers will feel comfortable next week. I know that they will be scared for their health, but I assure you I know that everyone of them will have a sense of inner joy to be around kids again," Steinhoff said.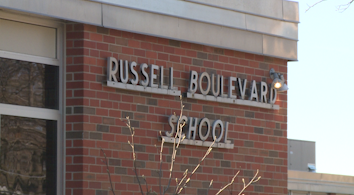 Jennifer Kwantes is a media clerk at Russel Boulevard Elementary and has two sons in the district: a fourth grader at Russell Elementary and a sixth grader at Jefferson Middle.
"I'm feeling pretty confident about the ability to keep our kids safe here at the elementary school level. I'm a little bit nervous about Collin going back to the middle school. I think the hybrid option will allow people to monitor their kids carefully over the five days their home and hopefully everybody will do their part," Kwantes said.
She said her main concern is how much bigger his "bubble" will get and how her family will try to decrease their risk of catching the virus.
Kwantes said she has tried to prepare her middle school student for hybrid learning.
"He is going to have to be religious about his mask wearing and his hand washing. I've encouraged him to not try and make new friends right off the bat, to stay close to the people that he knows," Kwantes said.
Another issue the district is running into is a shortage of teachers and subs are needed.
"If the community really wants to see those kids in seat, I would encourage everyone to, if you have the credentials, to help us find substitute teachers when these teachers start getting sick, so we can keep those kids in school, if that's what if that's what people want... We really do need substitutes," Kwantes said.
"We're excited to have the kids come back. I don't think there's any teacher or staff member that doesn't feel better and happier," Kwantes said.
For a timeline of CPS' decisions for in-person learning, click here.