JEFFERSON CITY — Hundreds of law enforcement officers and families from across the state gathered at the state capitol Saturday morning to remember officers killed in the line of duty over the past year.
The ceremony returned to the Missouri Law Enforcement Memorial after being held virtually in 2020. Organizers of the memorial echoed that events over the last year have highlighted the profession's importance.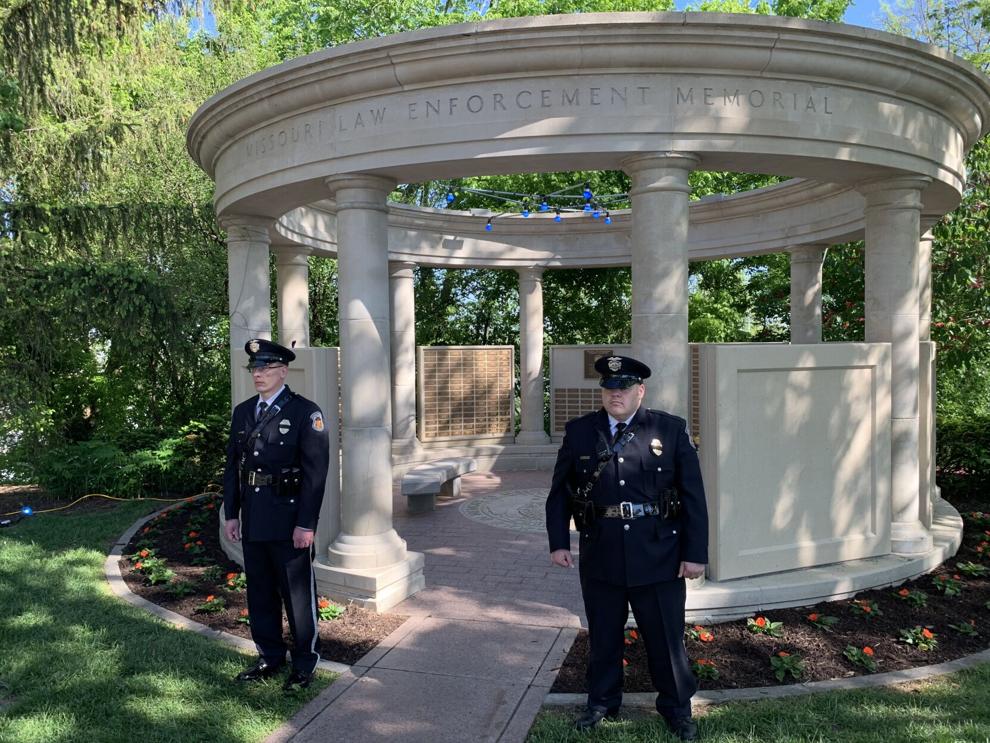 "The recent spate of mass shootings have shown us that this country needs our heroes in blue more than ever. If not for the men and women whose names adorn these walls, society would fall in the face of fear and peril," Missouri Fraternal Order of Police president Rick Inglima said.
Six Missouri law enforcement officers and two corrections officers that died in the last year were honored.
Officer Christopher Ryan Walsh, Springfield Police Department: Died in a convenience store shooting on March 16, 2020 at 32 years old after 3.5 years on duty.
Sheriff Andy Clark, DeKalb County Sheriff's Office: Died in a car crash while responding to an emergency on June 3, 2020 at 43 years old after 22 years on duty.
Officer Tamarris Bohannon, St. Louis Metropolitan Police Department: Died in a neighborhood shooting on Aug. 30, 2020 at 29 years old after 3.5 years on duty.
Assistant Chief Rick A. Groves, Kennett Police Department: Died Oct. 16, 2020 from COVID-19, believed to have been contracted while assisting an infected citizen, at 69 years old after 38 years on duty.
Corrections Officer Richard Allen Wright, Vandalia Correctional Center: Died Nov. 19, 2020 from COVID-19, believed to have been contracted while working in the prison, at 61 years old after 15 years on duty.
Detention Officer Dwight Willis, Greene County Sheriff's Office: Died Nov. 22, 2020 from COVID-19, believed to have been contracted while working in the jail, at 56 years old after 19 years on duty.
Sergeant Herschel Turner Jr, Moline Acres Police Department: Died after being hit by a vehicle while stopping a stolen car on Dec. 5, 2020 at 54 years old after 22 years on duty.
"Law enforcement officers face unknown risks and danger every day, and sometimes, tragically, make the ultimate sacrifice in their commitment to keeping the communities they love safe," Attorney General Eric Schmitt said. "It's imperative that we continue to honor and remember that sacrifice."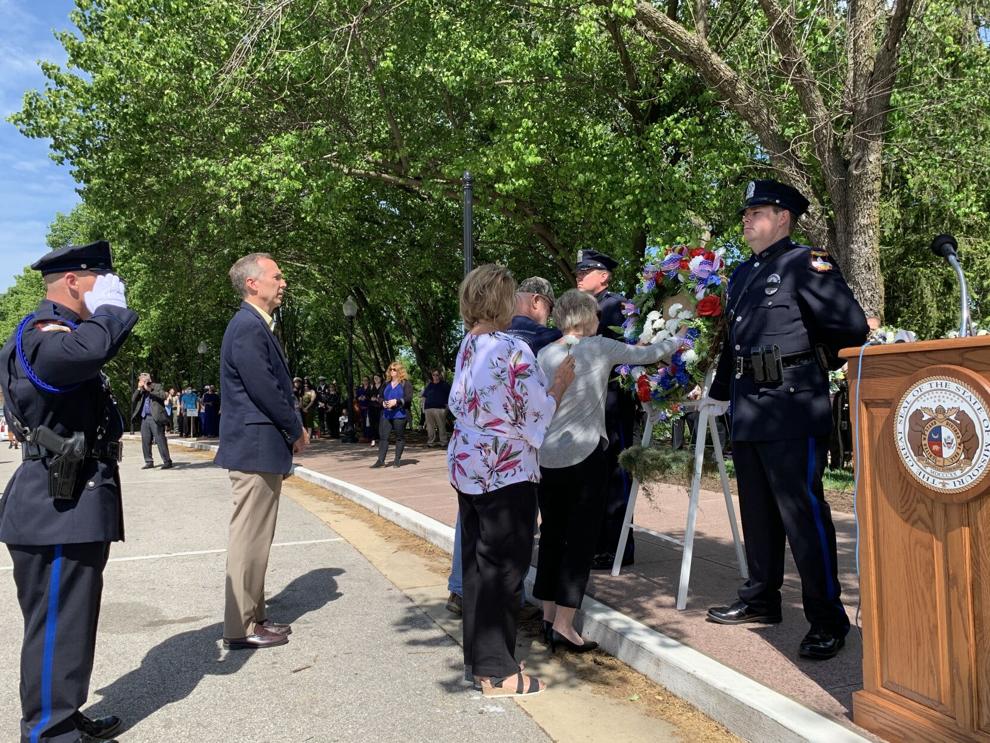 Families of all of the fallen officers were escorted by an honor guard to place a white rose at the memorial in their honor. They were joined by many families of officers who passed away in previous years, as a yearly tradition of keeping their memories alive. The St. Louis County Police Pipes and Drums also played a rendition of "Amazing Grace" on bagpipes and the Missouri State Highway Patrol troopers gave a 3-volley shotgun salute.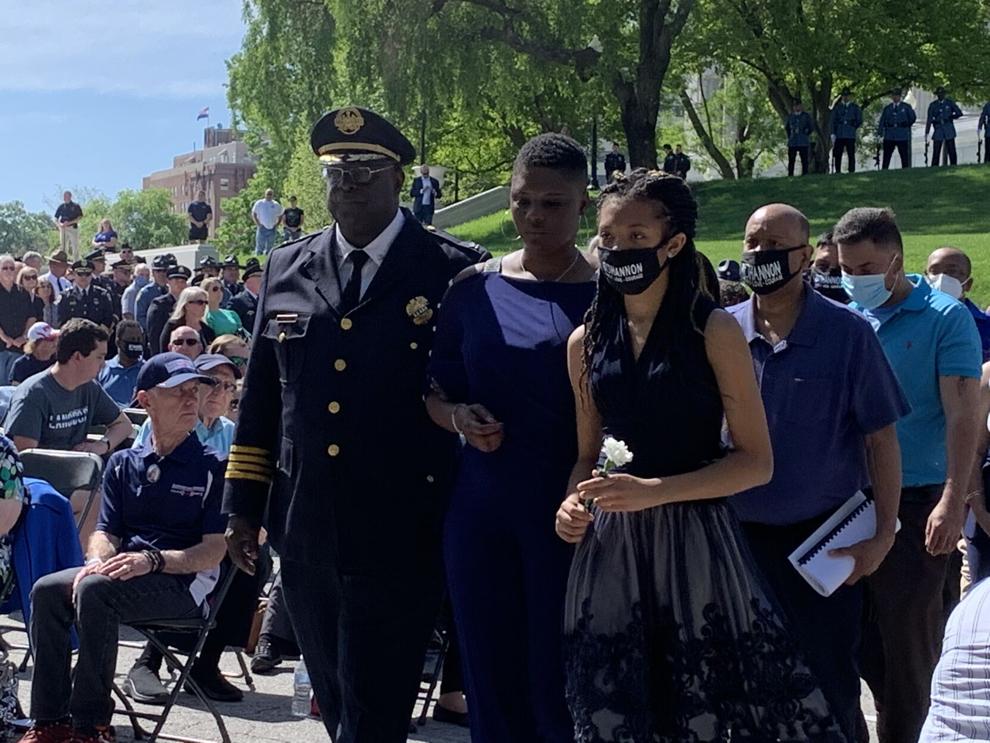 The names of each officer, in addition to the names of seven law enforcement officers whose historical line of duty deaths were recently confirmed, were added to the memorial's wall of honor.
"The names on this wall were husbands and wives, mothers and fathers, sisters and brothers, aunts and uncles, and sons and daughters," Lieutenant Governor Mike Kehoe said. "Today, we remember them. Today, we offer condolences for those for whom the grief of loss is still very raw and real."
A candlelight vigil was also held Friday night and the capitol dome was lit blue for the event.