Vicky Hartzler officially announces U.S. Senate campaign
At an event in Lee's Summit, Vicky Hartzler announced she is running for an open U.S. Senate in 2022. Hartzler currently serves as Missouri's 4th congressional district representative, a title she has held since 2011. This comes after Sen. Roy Blunt's announcement that he would not run in 2022.
On the Republican side, former libertarian gubernatorial candidate Rik Combs, former Governor Eric Greitens, St. Louis Attorney Mark McCloskey and Attorney General Eric Schmitt have all announced they are running for the seat.
Democrats Spencer Toder, an owner of a St. Louis area startup; former State Senator Scott Sifton; former U.S. Marine Lucas Kunce; Timothy Shepard and Air Force Veteran Jewel Kelly are also in the running.
Noble Health investing in Mexico, Fulton hospitals
Noble Health, the Kansas City-based company that owns Callaway Community Hospital and Audrain Community Hospital, will renovate the two. The plan is to use funds to renovate existing structures and add some new ones like an ER awning.
The organization acquired Callaway Community Hospital, formerly known as Fulton Medical Center, in 2020 followed by the Audrain Community Hospital in 2021. Since acquiring the two hospitals, Noble Health has brought on more staff, broadened services it offers and invested time and money into hospitals that need it.
Columbia City Manager Glascock announces January 2022 retirement
Columbia City Manager John Glascock announced his retirement Thursday afternoon, effective Jan. 14, 2022. Glascock was previously announced as Columbia's city manager on July 15, 2019 after serving as interim city manager since November 2018. He was officially sworn in on Jan. 2 2020. 
Since his work began for the City, Glascock has served in several different roles as chief engineer, director of Public Works, acting Water & Light director and deputy chief manager.
The City will begin the search for the new city manager in the coming months. They will use a consulting firm, which has not yet been selected, to find a list of candidates. 
Show-Me State Games short of volunteers as games return
The Show-Me State Games are returning this year, but there's a shortage of volunteers.
The executive director said the organization has done a huge push for volunteers. Compared to the beginning of the week, the organization has a lot more volunteers, but they are still pushing for more.
The 37th Annual Game returns after last year's was canceled. The games will be held on the weekends of July 16-18 and July 23-25. The Show-Me-State games are the largest state games in the nation.
For more information on how to sign up to volunteer visit the Show-Me State Games website.
Neighbors react after bear sighting reported in east Ashland
The Ashland Police Department reported Thursday morning that a bear was spotted by several residents and an officer.
Several Ashland residents initially did not believe the sighting until hearing about it on the local news. The sighting was talked about all day on the community Facebook group.
Police ask that residents be on the lookout for bears and keep food stored securely. Trash should also be secured, and roll carts may not be secure enough. Residents should also keep a close eye on their pets and ensure that their homes are secure at all times. 
Friday might be a good day for a dip in the pool. Expect temperatures to climb into the lower 90s with head index values from 95 to 100 degrees. The lack of a breeze will create 'sweltry' conditions.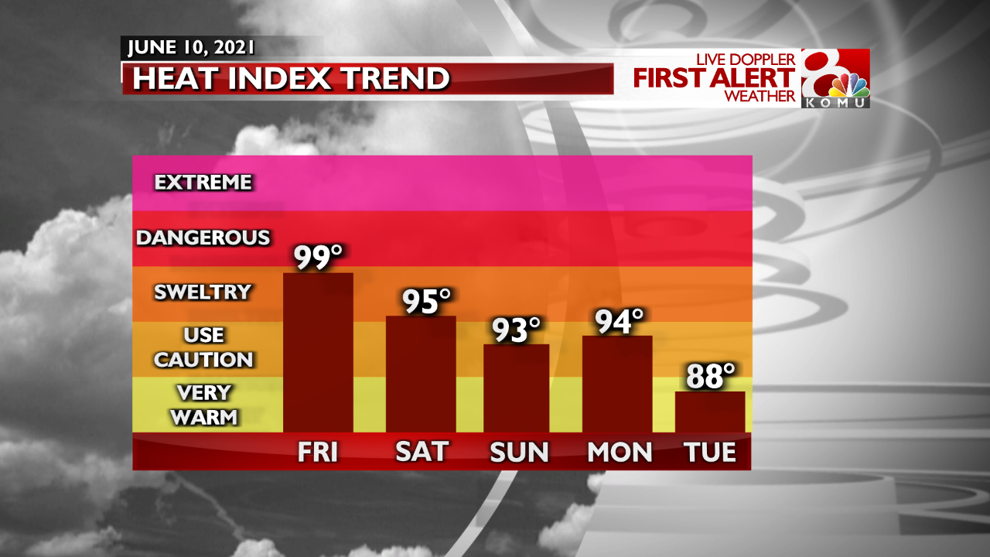 Rain is possible in the afternoon and evening, but KOMU 8's First Alert Weather expects the bulk of activity to stay in the west in the Kansas City area. Areas along and east of Highway 63 have the best chance of showers and thunderstorms in the KOMU 8 viewing area.