LINN − The State Technical College of Missouri has set another enrollment record this year, with a record-breaking 2,200 students enrolled. 
As a result of these high numbers, there were some State Tech students without housing for this year.
"This year was a little bit different," said Brandon McElwain, Marketing Director at State Tech. "We had a little bit of a crunch. So we actually partnered with Lincoln University in Jefferson City."
This partnership means there are 30 students, one resident assistant and State Tech's intramural director staying in Lincoln dorms. 
"We have 144 beds on campus that are considered you know, on campus housing," McElwain said. He also said State Tech students living on Lincoln's campus pay Lincoln's housing prices.
The rate for a double bedroom at State Tech is $ 1,850.00 per semester.
The rate for a double bedroom at Lincoln is $2,389.00 per semester, which makes about a $500 difference between both schools.
"It was a win-win situation for Lincoln and ourselves," McElwain said. "They had a few underutilized residence halls. And we thought, well, we can help you fill those. So we were able to do that...we picked Tull Hall."
Cameron Carter started working at State Tech in mid-August as the Intramural Director over student activities. He lives on Lincoln's campus with the 30 other students and the RA.
"From here to Lincoln, it's not too bad," Carter said. "It's pretty much a straight shot. It's about a 25-minute drive."
Depending on traffic, the commute between the schools ranges anywhere between 15-30 minutes.
"They're basically a commuter student in that aspect," McElwain said. "But we wanted to make sure that they didn't have to like travel hours and hours to get here."
But even a half-hour can be taxing. 
"It's pretty nice that I am 30 minutes away with the students that are also 30 minutes away," Carter said. "It's kind of like I can, I can feel with them how hard it is to go back and forth."
Still, Carter says its too early on to seriously assess how things are going.
"Once they get to know each other more, especially as roommates, they'll probably end up actually carpooling," he said. "But since it's so early in the year, still the first day, then they'll probably start riding together a little more."
The college says this year's enrollment is an 8% increase from last year, and over the past six years, they've seen a 75% increase in enrollment. That's five straight years of an overall enrollment record and six years for record first year enrollment, according to a news release.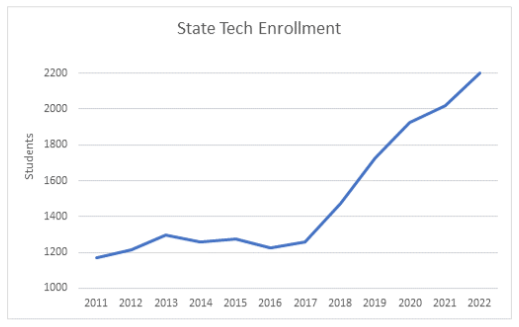 State Tech President Dr. Shawn Strong says he is excited about this year's enrollment.
"When it comes to technical education no one does it better than State Tech," Strong said. "Employers know this and students know if they want the best you go to State Tech. The fact that we can continue to grow when the unemployment rate is so low is a testament to our reputation and outstanding value proposition."
Strong said he knows housing has been difficult and that he is grateful Lincoln University was willing to partner and house some of its students.
"This year housing has been a challenge with local developers being hesitant to build with labor shortages and high material costs," Strong said.
State Tech's marketing director says because of ongoing construction in the area, it's likely this partnership will only last a year.
"A lot of the developers in town are already in the process of building more apartments," said Brandon McElwain, Marketing Director at State Tech. "So there will be more apartments available as soon as next year. But this particular year, we didn't quite keep up with growth."
Strong also said their strong rate of growth allows the college to add new academic buildings, parking and student activities. A Top Tracer driving range will open on Sept. 8, and State Tech is less than a year away from opening a new multipurpose entertainment venue. 
The center will include a a 50-seat theatre, golf simulators, a sports bar, pro shop, outdoor gaming area, e-sports gaming zone, duckpin bowling and a 300-person event center that will overlook a nearby lake, according to a news release.
"We are so excited to provide additional events as well as recreational and entertainment spaces for our current and future students," Vice President of Student Affairs Dr. Chris Bowser said. "We believe this will be a recruiting tool for any student who is looking for an elite education, while having fun both inside and outside the classroom."