COLUMBIA-  Reflecting back at the pandemic, Colony Pointe Assistant Living administrator Oneva McClendon said it was a difficult time for residents to be in isolation away from their families.
"Everyone was really ready to be vaccinated. We had 100% participation here with the residents because they knew that was the next step to bringing families back in," McClendon said.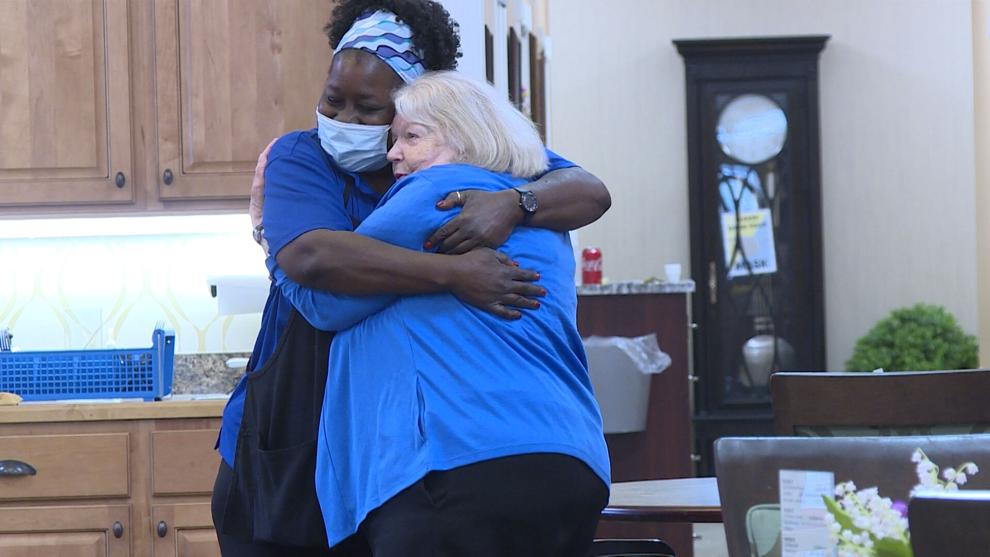 McClendon believes the staff at the nursing home played a huge role in keeping the residents morale up because they view their residents as family. 
"It made our role that much more important in how we interact with the residents because they needed even more so to know how much we care about them as individuals and just to be there for them, not only as caregivers but a support system, to get them through the pandemic," McClendon said. 
Rosalie Gilbert, a resident at Colony Pointe, called the pandemic an "extended cabin fever" but is grateful the staff worked to keep her and her husband safe.   
"They did such a remarkable job of trying to keep us happy and entertained," Gilbert said.
The two have been at Colony Pointe for 20 months. 
"My husband and I together realized that we had a better opportunity than most because we had each other, but we still missed our family and the staff saw to it that our families knew they could visit through our window, " Gilbert said.
McClendon said there was a drastic change in residents' mental health as visitors were allowed back in the facility after a year.
Colony Point starting accepting visitors in the building in March.  Visitors are required to wear a mask and must complete a wellness check when they enter the building. 
"The morale boost that it gave everyone, us as well. Being able to seem them get to spend time with their families again, it was just a really great thing and just made all the difference in the world because it was definitely a very hard year for them," McClendon said. 
Colony Pointe was fortunate not to have a COVID-19 outbreak in their facility during the pandemic.  
McClendon said that all residents are 100% vaccinated. 
"With all of them being vaccinated, that is a huge help too. We feel that much more safer about all these activities resuming."